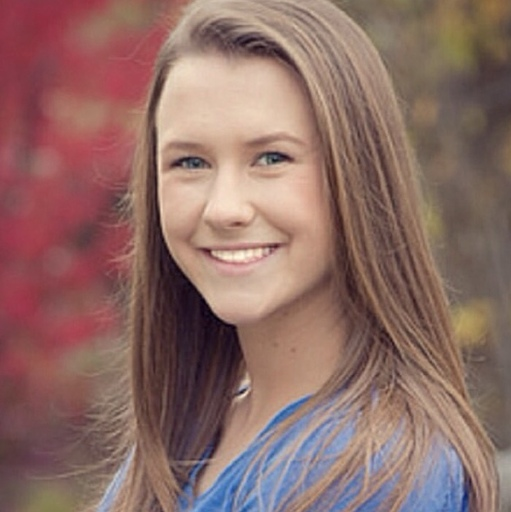 On Building the New Home Services Bundle at CONNECTIONS CES 2021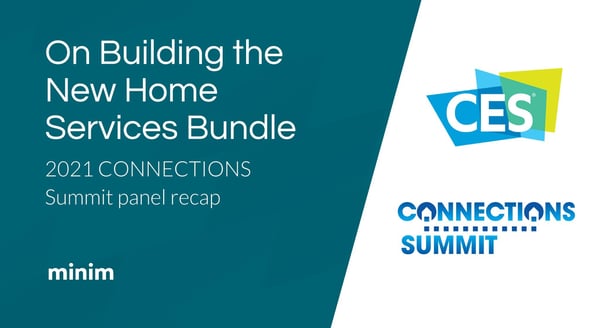 Internet Service Providers (ISPs) have seen a significant increase in broadband service subscriptions over the last decade, while the adoption of traditional telephone and TV service bundles has steadily dropped. Also factor in that streaming services now account for 68% of all TV viewing— a number that continues to rise as cord-cutting reaches new record highs during the pandemic.
To combat this increasing revenue churn, ISPs will need to offer new value-added services to their broadband customers. Recently, at the CONNECTIONS Summit at CES 2021, international market research firm Parks Associates hosted a session on Building the New Home Services Bundle to discuss just that. Minim CMO Nicole Hayward Zheng spoke on this panel alongside leaders from Plume, Cox Cable, and PointCentral. You can find a recap of the panel discussion below.
The Fall of the Traditional Bundle
To kick off the last session of the summit, Kristen Hanich, Senior Analyst at Parks Associates and moderator of the event, began by highlighting the willingness of consumers to adopt value-added services in their homes. In one of their own studies from 2019, Parks Associates found that nearly half of US broadband households reported adopting at least one value-added service from their ISP: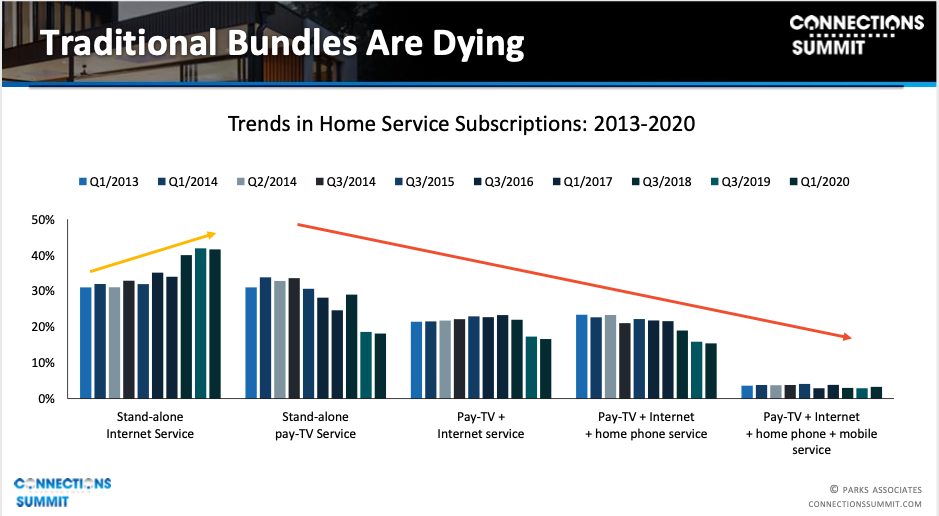 Source: Parks Associates study, Broadband Value-Added Services
After establishing this trend, Kristen opened the discussion about ISP's adaptability.
Does the bundle still remain important for ISPs?
As a marketer who shepherds both the Minim and Motorola brands, Nicole approached this topic of fighting churn and increasing revenue per user with a focus on brand loyalty and new audience insights:
"Brand loyalty is built on the foundations of a stellar user experience, trust, benefits and rewards, so it's more about the value than the bundle," explained Nicole. "I think the ISPs who'll get it right will have leaned into platform thinking and much faster innovation cycles. For example, instead of one kind of WiFi system, leaders will offer a handful of choices and apps... The leaders will focus on offering great services that are easy to activate, personalize, and reap rewards for brand loyalty."
Why should ISPs be looking to offer a more diverse portfolio of choices? According to Hulu's Generation Stream Report, Nicole pointed out, we're entering a new age of users who are all about the options:
75% of streamers say they prefer "lots of choice" to "less choice".

The majority of Generation Stream agree that "more is more" when it comes to entertainment.
65% of Gen Z streamers watch at least one show that they say others would find obscure.
Nicole related this to how a "new bundle" that's still rigid in nature will likely be destined to low uptake and high churn. And so, to remain the curator of the home connectivity experience, ISPs will need to deliver services that consumers can personalize.
Plume's Cofounder and VP of Products, Adam Hotchkiss, offered a slightly different angle, focusing on Plume's solution: "....The first place to enhance the service offering is to reimagine what you consider to be a service play and double down on emboldening the internet to the home, such as with parental controls or security offerings... and then go into things like physical presence and motion detection inside the house, which we offer as part of our platform."
CONNECTIONS Summit 2021Panel: Building the New Home Services Bundle
When it comes to breadth and variety in value-added services, Cox Cable's Executive Director of New Growth and Strategy,
Brett Lasher had prime examples:
"We're in the market piloting a number of interesting health care initiatives today and are about to start piloting some home energy management tools. The first pilot in that space will be next month."

PointCentral also brought advanced solutions to light. With an edge in services for Multiple Dwelling Units (MDUs), the company launched their seamless "couch to connected" experience last year, tying intercoms to access control to resident doors to common areas. "One of the things that is unique to us is that we've found a particular way to do that without having to rip and replace all the existing hardware," said Sean Miller, President of PointCentral.
Do ISPs have to bundle?
In this new age of personalization, can one bundle meet all of a consumer's needs?
Nicole asserted that the secret to the new-age bundle will be in its convenience, flexibility, and cost savings for the customer. As Minim's retail partners report a 40% uptick in consumers buying their own products, broadband users are beginning to take connectivity products into their own hands, but not without friction.
"From network security, to entertainment, to telehealth, to exercise— If toggling on a new service for my home is as easy as downloading an app, and I can create savings by doing so on a unified platform— that's a strong proposition of convenience and value," says Nicole.
More specifically, here's Nicole's breakdown of what's needed in the new-age service bundle:
Flexible ways for the subscriber to create their own bundle
Easy ways for the subscriber to manage their own bundle
Great deals brokers by by service providers
A delightful user experience
An on-demand digital assistant or self-service support
Cox's Brett Lasher agreed with that vision, revealing that Cox will be exploring the possibility of converging connected services to better align with consumer demands. For example, "On the gaming side of things," Brett explained, "we've recently launched Cox Elite Gamer, a gaming tool which helps reduce latency and jitter for gaming operations."
So, what's in store for 2021?
Luckily for us, an audience member asked the burning question, what's next? More precisely, what will be the biggest challenges and opportunities for this industry in 2021?
From Minim's perspective, Nicole pointed out that the pandemic's work-from-home movement has highlighted some major vulnerabilities for many businesses, especially in regards to cybersecurity and IT management.
"The Minim platform reports that 59% of home networks now have malware detected. I like to say that the office network has essentially exploded into employee homes, but IT assistance has not," explains Nicole.
With the distributed workforce here to stay, Minim is working with companies to optimize, secure, and support their remote workers. According to Nicole, we also expect to see our ISP partners continue to experiment with value-added services like IPTV, streaming bundles, whole home WiFi, and smart home support plans— many of which are enabled by Minim.
From Point Central's perspective, "trying to make sure these [advanced] technologies are more easily accessible to residents and property managers and owners... " is a key focus, according to Sean.
As for ISPs, 2021 will be dedicated not only to reversing the current trend of bundle erosion by adding new services, but also to getting more people online; "[With] the importance of the internet to function for your job or for education, the digital divide became exposed... I think Cox and other MSOs really stepped up to help deliver with some of our programs," said Brett.
Nicole agreed, citing the good work that Minim's WISP partners have been doing with the Connect America Fund to expand networks, as well as their hybrid deployment efforts for redundancy and reliability in the case of natural disaster.
As the world adjusts to a new normal of broadband dependency and the transformation of the traditional ISP service bundle, the market can expect to see an accelerated connectivity innovation in 2021 and beyond.
---
More Minim updates you may be interested in: