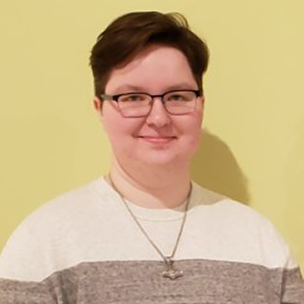 The digital transformation of broadband customer support
The unexpected and abrupt migration to a WFH policy has put a strain on Internet Service Providers (ISPs) to provide a safe, comprehensive service to their customers. Hospitals, businesses, and homes all depend on secure, quality service from their ISP. During this trying time, it's crucial for ISPs to provide the support their customers expect—all with the same level of structure and staffing.
With an increasing importance of at-home WiFi, ISPs need to find a reduction in truck rolls, customer service calls, and an improved experience for the customer. But doing so requires a big change.
Welcome to the digital transformation of broadband customer support.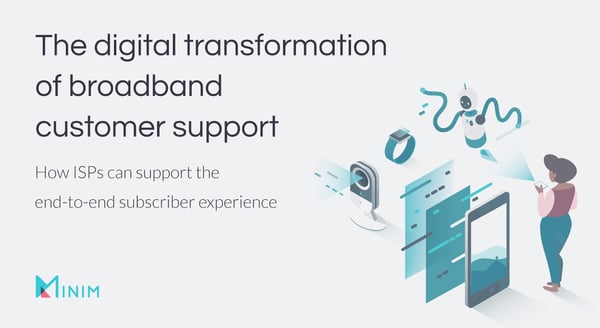 What is the digital transformation of support?
Digital transformation is an initiative that spans across all industries, and ISPs aren't the only ones finding problems with keeping up with demand. Leading Customer Relationship Management platform Salesforce defines digital transformation as follows:
"Digital transformation is the process of using digital technologies to create new—or modify existing—business processes, culture, and customer experiences to meet changing business and market requirements.

It transcends traditional roles like sales, marketing, and customer service. Instead, the digital transformation begins and ends with how you think about, and engage with, customers. As we move from paper to spreadsheets to smart applications for managing our business, we have the chance to reimagine how we do business—how we engage our customers—with digital technology on our side."
The broadband industry calls for digital transformation in the end-to-end subscriber experience of optimizing and supporting the home network. This includes, but is not limited to:
WiFi system setup
WiFi system personalization (e.g. parental control settings)
WiFi performance issues troubleshooting
Customer service interactions
Reimagining the product, internet service, as interactive rather than as a commodity gives ISPs the growth and ultimately the increased margins and customer satisfaction that are needed.
Allowing ISPs to reduce the number of truck rolls, in-person visits, one-on-one support calls, and basic troubleshooting for simple end-user issues is what will benefit the business model the most. With smart technology and AI-driven support, digital transformation can be made possible with ease.

Meet Minim, the transformative solution
With almost 90% of households now using WiFi, 70% of telehealth visits occurring through streaming services (and rising), the dramatic influx of WFH policies that will only continue to grow, and the wireless offloading of global mobile data to WiFi reaching 59% by 2022, now is the time to begin a digital transformation to utilizing AI and complimenting already-existing structures with Minim.
Minim is an AI-driven WiFi and IoT management platform designed to make insights available to Managed Service Providers, subscribers, and the customer care team supporting them to deliver enhanced WiFi management and security. Minim is also a lightweight solution that can be layered on top of or used in conjunction with others at a significantly low cost.
Minim fills the need for an ISP-subscriber buffer by helping ISPs become trusted smart home security experts overnight—no previous experience with cybersecurity or network management services is needed. The notion of securing the integrity of entire home environments from threats such as malware, botnets, lateral attacks, listening attacks, and inappropriate content is where Minim excels. By leveraging a Minim-enabled device to manage the network, ISPs can secure their subscribers from these incoming internet threats.
Here's a further breakdown of the Minim solution:
AI-automated support
Minim's proprietary IoT fingerprinting technology automatically profiles and refines behavioral models for subscriber devices. Device fingerprints require no user input; instead, they are automatically derived from device telemetry data, defining device attributes using Minim's ever-growing IoT database. Here's a peek inside!
The device attributes that Minim automatically uncovers includes: make, model, type (category), operating system, 4K streaming capability, "friendly" name, supported WiFi standards, time last seen, connectivity status, and more.
Minim monitors devices in real-time and deploys security rulesets to stop threats before they can affect the network and other connected devices. Leveraging Minim, ISPs can protect subscribers at the network-level without interfering with operations or compromising privacy.
Minim® Care Portal for ISPs
The Minim® Care Portal is an intuitive web application that allows Minim subscribers to self-manage their at-home WiFi. The Minim Care Portal contains several management and diagnostics report options, total inventory, amount of subscribers online or offline, and much more.
Minim® Mobile app for subscribers
The Minim® Mobile app allows Minim subscribers the ability to both personalize and optimize their home network right from their phone so that stuff "just works." The mobile app allows users to troubleshoot their own problems, connect users to support information through a chat feature, and much more.
Minim hardware
Sourcing, configuring, and shipping out hardware is a time-consuming process for ISPs that doesn't need to be. Through Minim, ISPs can quickly access and install CPE in Minim subscriber homes, reducing the time ISP technicians need to spend on-site while simultaneously increasing subscriber satisfaction through ease of deployment.
As a Made for MikroTik software partner with a continually refreshed landscape of compatible Minim-enabled hardware, Minim is an excellent choice for ISPs who are looking for a digital transformation.
Learn more
Interested in learning more about how Minim can help digitally transform the end-to-end subscriber experience? Download the full white paper below, or get in touch.