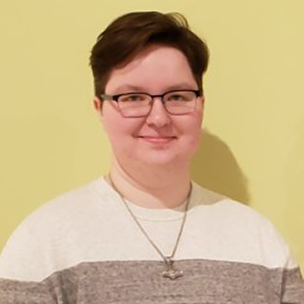 WiFi 6 vs WiFi 5 speed: Which is better?
In 2018, the WiFi Alliance announced WiFi 6, a fresher, faster generation of WiFi that builds off of the old framework (802.11ac technology). Now, after beginning to certify devices in September of 2019, it's arrived with a new naming scheme that's easier to understand than the old designation.
Some day in the near future, many of our connected devices will be WiFi 6 enabled. For example, Apple iPhone 11 and Samsung Galaxy Notes already support WiFi 6, and we've seen Wi-Fi CERTIFIED 6™ routers recently emerge. What can we expect with the new standard?
The new technology offers connectivity improvements for WiFi 6 enabled devices while maintaining backwards compatibility for older devices. It works better in higher-density environments, supports an increased capacity of devices, improves the battery life of compatible devices, and boasts higher data transfer rates than its predecessors.
Here's a breakdown of the previous standards. Note that the older versions have been designated with updated naming schemes, however, they are no longer widely in use:
WiFi 6 to identify devices that support 802.11ax (released 2019)
WiFi 5 to identify devices that support 802.11ac (released 2014)
WiFi 4 to identify devices that support 802.11n (released 2009)
WiFi 3 to identify devices that support 802.11g (released 2003)
WiFi 2 to identify devices that support 802.11a (released 1999)
WiFi 1 to identify devices that support 802.11b (released 1999)

WiFi 6 vs WiFi 5 speed
First, let's talk theoretical throughput. As Intel put it, "Wi-Fi 6 is capable of a maximum throughput of 9.6 Gbps across multiple channels, compared to 3.5 Gbps on Wi-Fi 5." In theory, a WiFi 6 capable router could hit speeds over 250% faster than current WiFi 5 devices.
WiFi 6's higher speed capability is thanks to technology such as orthogonal frequency division multiple access (OFDMA); MU-MIMO; beamforming, which enables higher data rates at a given range to increase network capacity; and 1024 quadrature amplitude modulation (QAM), which increases throughput for emerging, bandwidth intensive uses by encoding more data in the same amount of spectrum.
And then there's WiFi 6E, great news for network congestion
Another addition to the WiFi "upgrade" is WiFi 6E. On April 23, the FCC made a historic decision to allow unlicensed broadcast over the 6GHz band. This works the same way that your router at home can broadcast over the 2.4GHz and 5GHz bands. Now, WiFi 6E capable devices have a new band with a whole new set of WiFi channels to reduce network congestion and dropped signals:
"6 GHz addresses Wi-Fi spectrum shortage by providing contiguous spectrum blocks to accommodate 14 additional 80 MHz channels and 7 additional 160 MHz channels which are needed for high-bandwidth applications that require faster data throughput such as high-definition video streaming and virtual reality. Wi-Fi 6E devices will leverage wider channels and additional capacity to deliver greater network performance." - WiFi Alliance
This decision almost quadruples the amount of bandwidth that's available for WiFi utilization and IoT devices—1,200MHz of spectrum in the 6GHz band available for unlicensed use. To put this into perspective, the 2.4GHz and 5GHz bands combined currently operate within about 400MHz of unlicensed spectrum.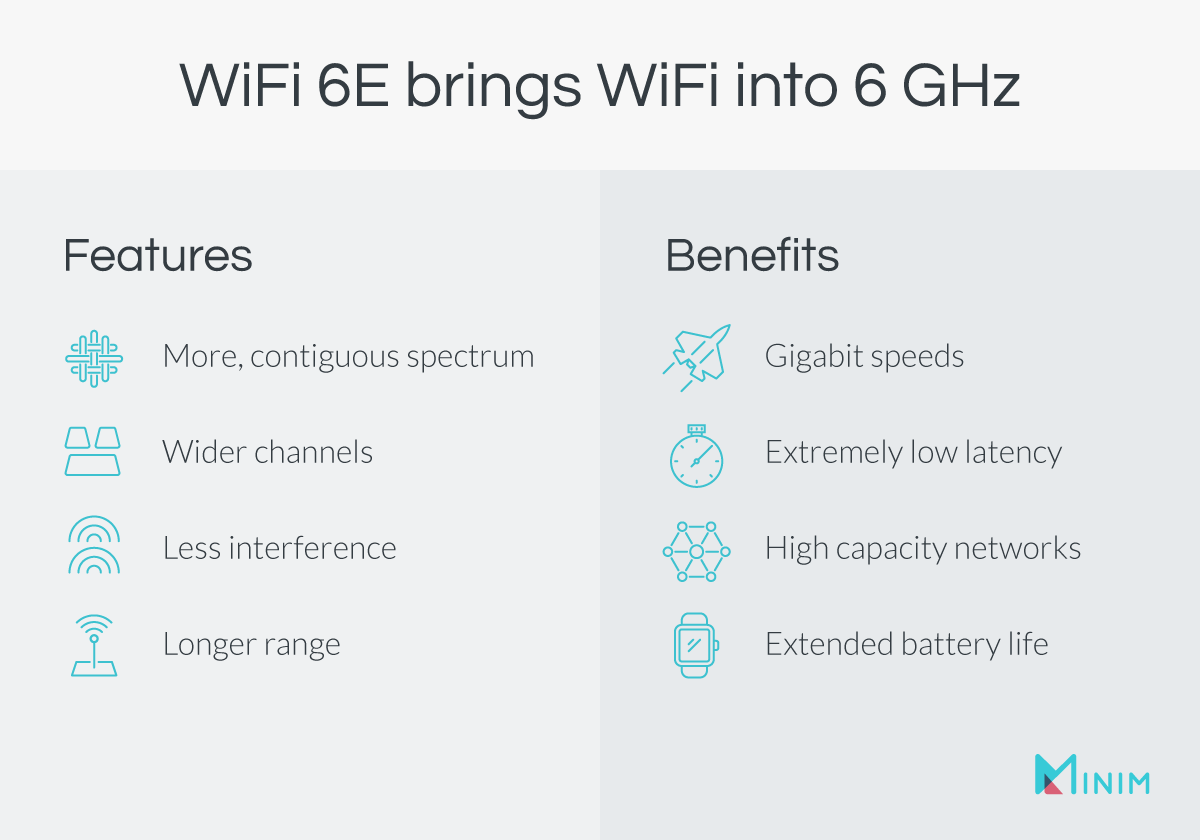 Will my device support WiFi 6E?
WiFi 6 compatibility does not mean WiFi 6E capable. Currently, devices are already on the market with WiFi 6 compatibility; these devices support the new standard, but they work on the same 2.4 GHz and 5 GHz spectrum. WiFi 6E-compatible devices won't roll out until the end of 2020, but when they do, they'll be clearly marketed as WiFi 6E devices.
So what does WiFi 6 and WiFi 6E mean for our future?
First, it's important to note that having a WiFi 6 router does not automatically deliver noticeable improvements. It's about the ecosystem. To fully realize the benefits we've discussed, the network must have:
A high-speed internet connection
A WiFi 6E router or mesh system with adequate range
Dozens of active WiFi 6E capable devices
That is, WiFi 6E promises big benefits in the case of high network utilization and contention. We're getting there; the average connected devices in homes is expected to reach 20 by 2025, and device manufacturers are hard at work bringing WiFi 6/6E capable devices into consumer hands.
Let's imagine the world when that happens.
WiFi 6 vs WiFi 5 in the home and public spaces
As a result of the COVID-19 pandemic, many have transitioned to working and learning from home. This can mean lots of frustrating problems for our home networks—including slow or spotty internet.
With the release of WiFi 6, the capabilities of MU-MIMO technology is expanding. MU-MIMO, or Multi-User, Multiple-Input, Multiple-Output technology, allows multiple users to access a wireless network at the same time without interruption or throttling. MU-MIMO also allows more downlink data to be transferred at one time, enabling access points to concurrently handle more devices at one time.
Online classrooms rely on video streaming and soon will rely on augmented and virtual reality to capture the best in-person learning experience while sitting at home. WiFi 6 delivers on the high throughput, low latency, and network efficiency required in these environments.
Even away from home, WiFi 6-enabled devices can work faster, last longer, and have a larger radius of internet coverage. Going to concerts and live-streaming high-quality videos is just as possible as connecting to the internet in packed transportation hubs and shopping malls.
WiFi 6 vs WiFi 5 for IoT devices
IoT or the Internet of Things is, simply, any device that connects to the internet. IoT devices have low latency, low speed, and low power consumption. With the staggering increase of IoT devices that are connected every day, the internet needs a more structured, capable network infrastructure.
WiFi 6 includes low-power improvements like target wake time that are well-suited for IoT devices. Target wake time, or TWT, allows for access points to talk to connected devices and tell it when to wake or when to sleep. It allows the compatible devices to conserve power, resulting in longer battery life. Better handling can support more devices, allowing even more IoT devices in the home to use the internet.
Note: Not all improvements listed above are available in all WiFi 6-compatible products. To get the full benefits of WiFi 6, both the provider and the client device should be certified for WiFi 6. For more information on a product-to-product basis, please refer to the user manual or documentation.
---
Other WiFi 6 blogs you might be interested in: