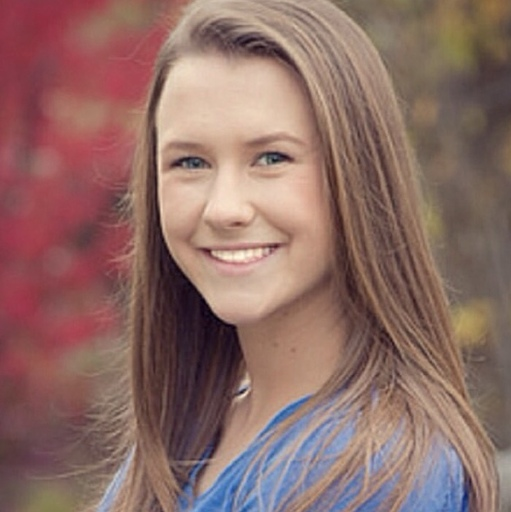 MikroTik cloud management: Complete control over your hardware fleet with a centralized dashboard
Subscribers like having choices. The average U.S. household has nine running subscriptions across music, gaming, and streaming platforms in 2021, and we're seeing a similar preference for optionality when it comes to internet service packages. Parks Associates found that nearly half of U.S. broadband households have adopted at least one value-added service from their ISP in an effort to customize their service plans. To meet this growing desire for more flexibility of choice and high-speed connection, many ISPs have expanded their hardware portfolios to include MikroTik devices.
Minim became a certified Made for MikroTik software partner back in 2019 to help providers integrate and update MikroTik solutions. We know that provisioning can be a lengthy process, but with the right tools, managing and updating your hardware fleet can become simple and seamless.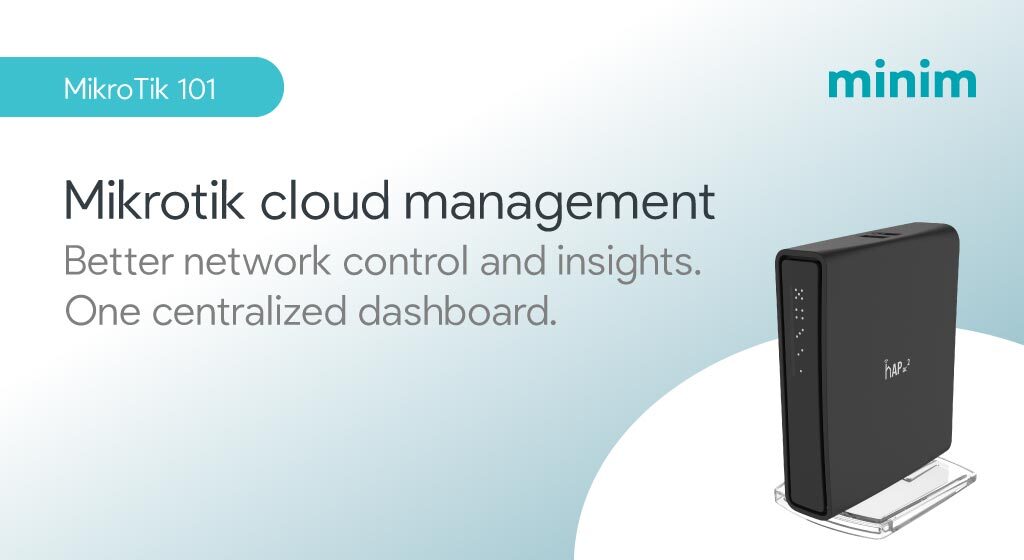 The benefits of MikroTik cloud management
With various MikroTik models available that can support up to 1 GB of RAM and data transfer speeds up to 10 Gbps, MikroTik routers are an ideal addition to diversify a hardware portfolio. The extensive feature set packed in with each device includes firewall, routing, MPLS, VPN, wireless, DHCP, hotspot, Quality of Service (QoS), proxy, and various other tools.
While the advantages are evident, a lack of centralized MikroTik cloud management options can present challenges. For one ISP on Reddit, handling a growing number of devices became overwhelming and time-consuming: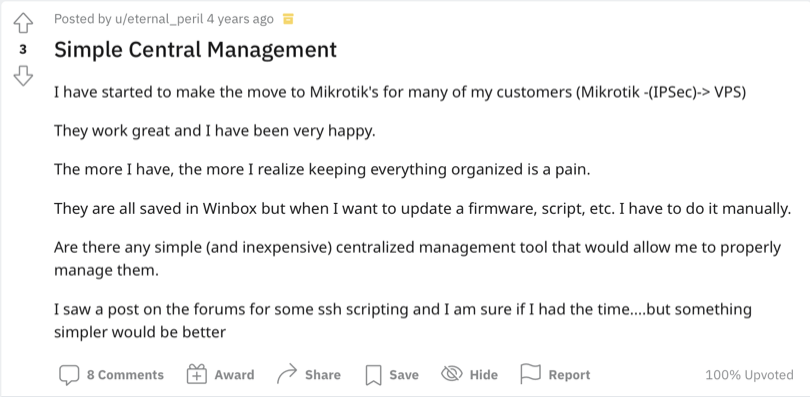 Screenshot displaying a Reddit post on simple central management for MikroTik
Without proper provisioning scripts or tools in place, our Minim platform reveals that individual MikroTik updates could take IT teams an average of 10-15 minutes per router to perform. Many ISPs have turned to free network management tools like TheDude to remedy this frustration, but online applications often require additional steps that are complicated or cumbersome. For example, the simple task of checking which devices are connected to a subscriber's network would require ISPs to log directly into the subscriber's router using Winbox. Once there, providers would leverage tools like DHCP server leases and connected wireless clients to identify each device by its individual hostname and MAC address.
With a solution like Minim, all of this information is displayed right on a centralized dashboard. Our intuitive IoT fingerprinting will also automatically fill in device information like manufacturer, make, and model for added visibility. Minim's Flash Tool cuts down provisioning time to ~2-3 minutes per device, while our Bulk Flash Tool option is also available to customers willing to do slightly more network setup. After configuring a network switch and a Raspberry Pi with our Minim team, customers can flash 20 units within minutes with this bulk tool solution.
Interested in learning more about Minim and our MikroTik integration? Feel free to schedule a meeting using this link.
Enhancing the subscriber experience with value-added features
For ISPs looking to get serious about enhancing their service, an affordable central management platform with built-in security is the way to go. In addition to time savings and a simplified setup, a MikroTik cloud management solution will deliver:
Better network visibility, access, and control
A centralized cloud management system allows ISPs to deploy and control all connected devices, WiFi networks, access points, and SSIDs from one convenient place. IT teams can query and send commands, change configurations, and simplify the remote troubleshooting process with key network insights from this dashboard. The best solutions will accommodate mixed MikroTik and non-MikroTik setups, allowing ISPs to unify the management of various hardware brands seamlessly and conveniently.
Stronger network security and threat detection
Cybercrime is at an all-time high post-pandemic, and web applications simply can't provide the defense mechanisms necessary to ensure an attack stays isolated. Consider investing in an affordable IoT Firewall solution for an additional layer of protection. This will help proactively defend subscribers against a breach or security threats from unknown devices. Most importantly, guest network users are blocked from accessing WebFig, the RouterOS configuration tool, to prevent devices from becoming compromised and sparking a lateral attack.
Increased subscriber satisfaction
Beyond configuration and security capabilities, third-party software management platforms, like Minim, can help network operators deliver the tools and WiFi management features subscribers are looking for. Convenience is integral to a positive user experience, which is why we added the Minim Installer for MikroTik tool to enable MikroTik router support on the Minim platform. Doing so unlocks even more features for a MikroTik device, including:
Device fingerprinting
Network health tracking
WiFi optimization and device performance insights
Parental controls with internet schedules, content filters, time limits, and more.
In our new WFH and digital parenting era, subscribers will be grateful for the ability to set network boundaries, monitor device activity, and optimize their WiFi performance with the support of your service.
Minim for MikroTik
Minim seamlessly configures MikroTiks with our Minim Flash tool and installer, enabling ISPs to set up and update devices remotely for the following MikroTik models:
MikroTik RB4011
MikroTik hAP AC2
MikroTik hAP AC
MikroTik hAP AC Lite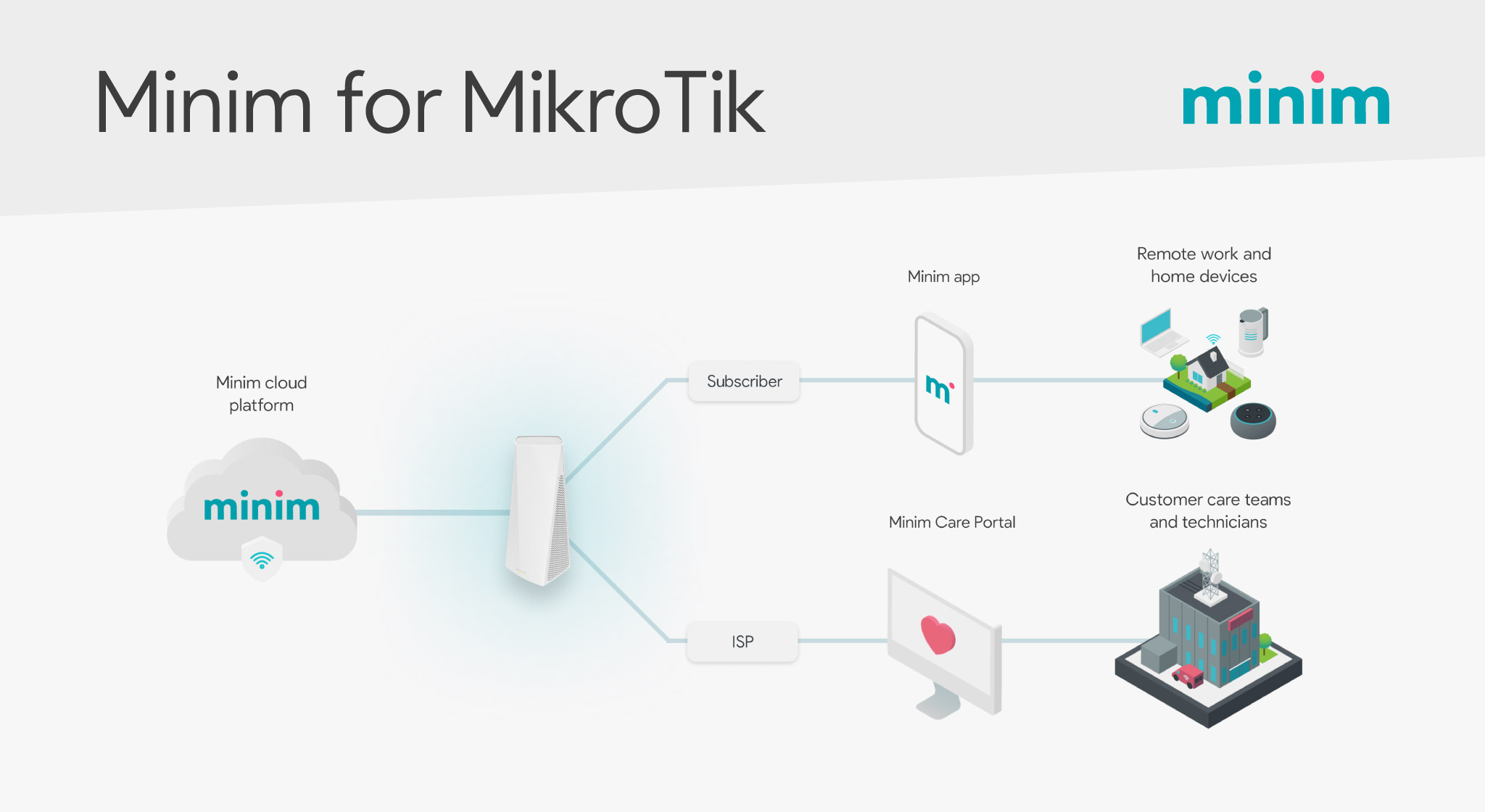 Image showing Minim's simple cloud management solution for MikroTik
Our cloud-based software and effortless provisioning process eliminate the need for truck rolls to update already-deployed devices. Once Minim's software is installed, your team would also have clear visibility into your subscriber LANs with deep device fingerprinting and management tools for fast resolution. Minim makes these features available through our intuitive web portal and mobile app.
Get in touch with Minim below to learn more about our MikroTik integration. Don't have MikroTik routers as part of your hardware portfolio? You can purchase a Minim-powered MikroTik Audience from our store to get started today.
Minim is a Made for MikroTik software partner and provides tools for easily configuring these routers. Check out the default configurations Minim provides for MikroTik router security.