MikroTik Audience review and support by Minim
As a Made for MikroTik software partner, the Minim platform supports several MikroTik devices— the latest addition of which being the MikroTik Audience tri-band mesh WiFi access point. Here's an overview the Audience and a look at its supported Minim feature set.
MikroTik Audience review
The MikroTik Audience (below) was released back in Fall 2019 and has since become a popular mesh device for the home network environment.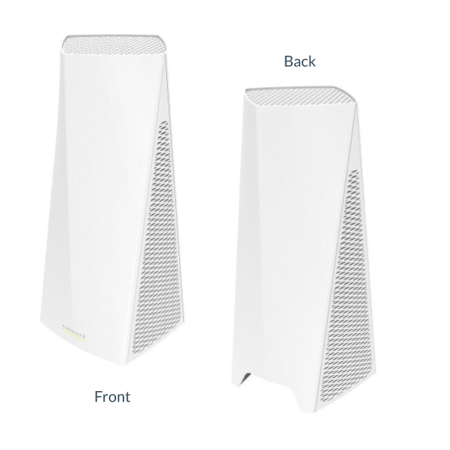 The Audience's tri-band concurrent design—one 2.4 GHz and two 5 GHz WiFi frequency bands— provides ample room to alleviate network interference. The second 5.GHz band acts as a dedicated WiFi backhaul, specifically for any additional Audience APs that are added to the network.
"Our home is covered by 2 Audience devices. At the moment, my entire family is using the network heavily. We are all on at the same time with my kids on video sessions for school and my wife and I working from home. And the Audiences have been working great for us. They even reach out to our driveway where my wife works out of our Airstream trailer. They are fast, they look good, and they were easy to set up and mesh, with the light on the Audience clearly indicating when you have a good mesh connection." - Minim CTO Alec Rooney
In testing, the Minim team has found good performance and range, using one Audience for ~2,000 square feet coverage and two for up to 6,000 square feet coverage.
MikroTik Audience key specs
Operating system

MikroTik RouterOS

Transmission rate

2.4 GHz: 300 Mbit/s (802.11n, 2412-2484 MHz)
5 GHz: 867 Mbit/s (802.11ac, 5180-5320 MHz)

WiFi spec

IEEE 802.11 a/b/g/n/ac
One 2.4 GHz and Two 5 GHz (Tri-band Concurrent)
Dual-chain on 2.4 GHz and 5 GHz

Range

2,000 sq. ft for single AP
6,000 sq. ft for two APs

IoT load

25+ devices

Physical interface

Port: 2 Gigabit Ethernet (PoE-out on port 1), Power
Button: Reset, WPS Sync
Light: Power, Connection Status
Antenna: Internal
Like the rest of the MikroTik RouterBOARD hardware line, the MikroTik Audience is powered by MikroTik RouterOS— a Linux-based operating system that delivers several features for configuration, firewall, routing, MPLS, VPN, wireless, DHCP, hotspot, QoS, proxy, and more.
Additionally, the MikroTik Audiences can come with LTE support (see the Audience LTE6 kit), which eliminates the need for an Ethernet connection to achieve high-quality speeds and performance.
Check out this MikroTik Audience brochure to learn more, and check out below for a sneak peek of the MikroTik Audience features unlocked by the Minim platform!
MikroTik Audience, powered by Minim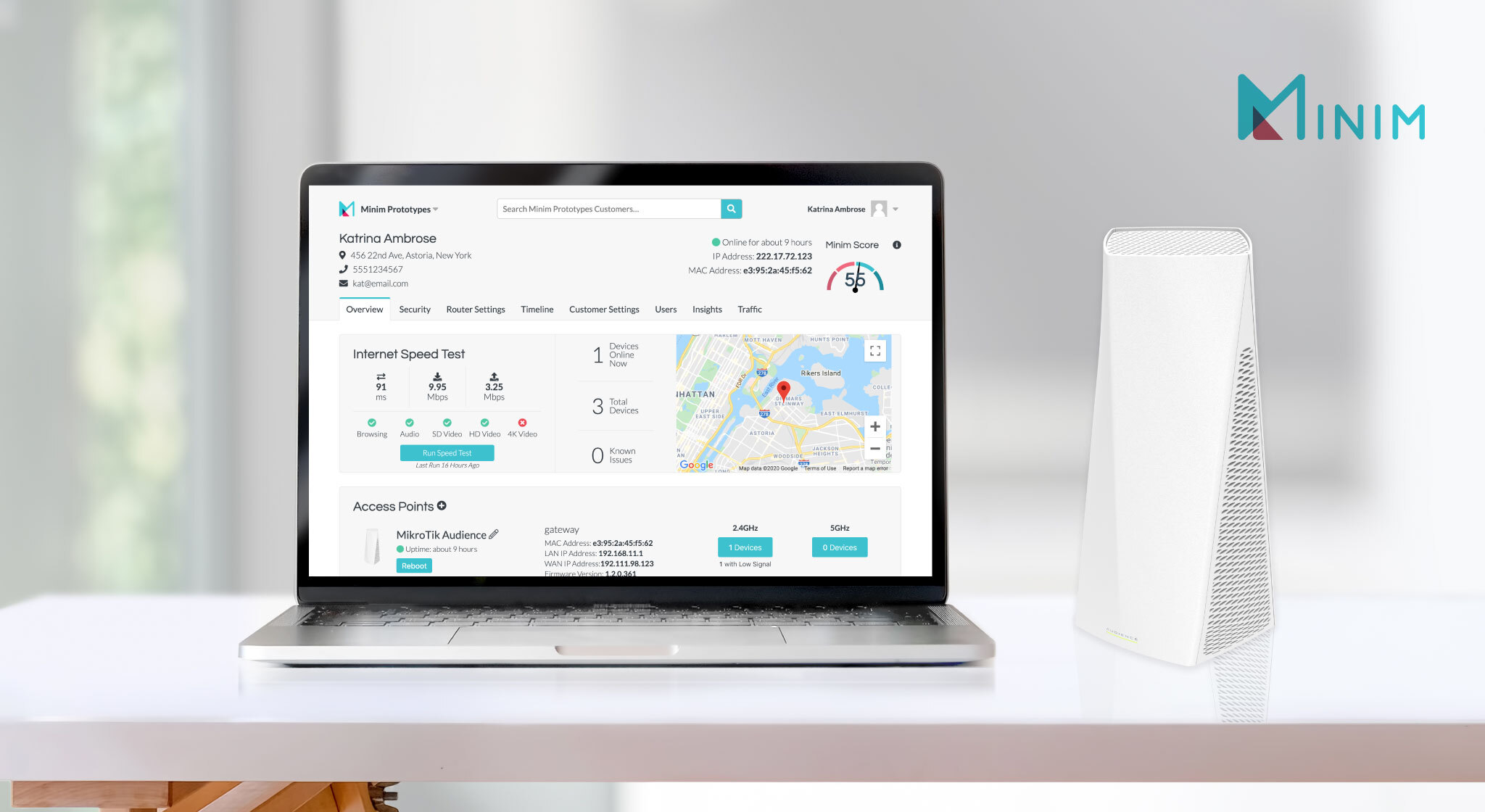 As one of the latest hardware additions to the Minim smart home security and managed WiFi platform, the MikroTik Audience can now be leveraged by broadband providers, security integrators, and remote workforces to ensure homes have a secure and quality WiFi experience.
With Minim, the MikroTik Audience mesh device is configured using the Minim Installer for MikroTik to deliver features such as:
AI-driven device fingerprinting
Network health tracking
Parental controls with internet schedules, content filters, and time limits
Comprehensive security— see Minim's MikroTik router security enhancements
WiFi optimization and device performance insights
Minim makes these features available through intuitive web and mobile apps.
Get in touch with Minim below to learn more! Additionally, you may purchase a Minim-powered MikroTik Audience from our store to get started today.