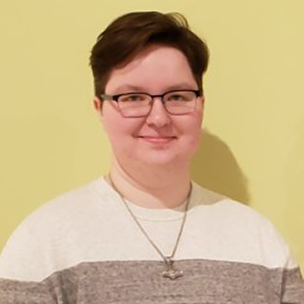 The top remote work challenges faced by IT professionals [survey]
The shift to remote working has placed a massive support and security burden onto the shoulders of every businesses' IT team. As 82% of company leaders plan to allow employees to work remotely post-pandemic, it's imperative that IT staff get the tools they need to best support their distributed teams.
To shed light on how the role of IT has evolved and what it could look like in the future, we surveyed over 30 IT experts, from industry veterans to newcomers, on how they're handling this new WFH reality. Here's what we found.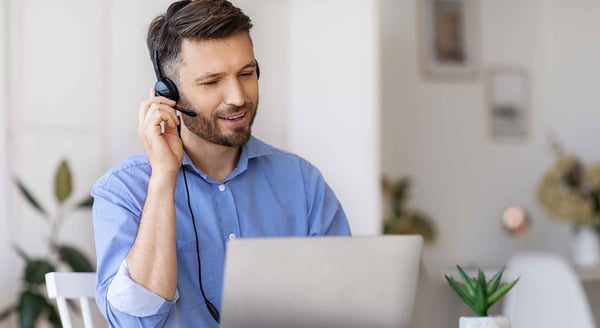 IT teams need additional support
A common theme across all respondents' answers was having a "lack of support," which can be broken down into two areas:
Emotional support — Feeling alone, disconnected, and hindered from team collaboration. (This area is unfortunately a very common issue among many distributed teams, not just with those working in IT.)
Job support — Feeling unable to effectively perform job duties in this new distributed environment, mainly as it relates to managing and troubleshooting technology issues for remote working employees.
Below is a breakdown of the top pain points IT professionals have experienced both within their teams and in dealing with other company employees.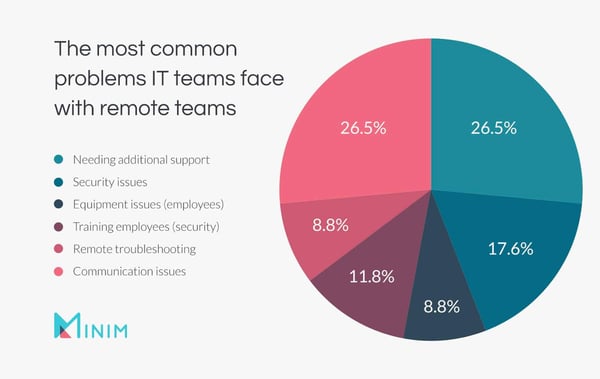 Remote working has only amplified the crucialness of a company's IT personnel, and these initial survey findings highlight that companies need to start looking for ways to alleviate these IT remote work challenges.
"Due to COVID-19, we had to implement sudden changes to the whole workflow. The IT management responsibilities drastically changed and became more critical to ensure the seamless connectivity of network systems for remote employees.

There have been numerous challenges to support our remote workers, and the most significant challenge includes the network infrastructure of individual users. Inadequate security of connected mobile and IoT devices opens the network to several cyber threats. Another challenge during the remote work was to make sure the VPNs didn't hinder the internet connectivity, which added some complexity to the network connection and required dedicated network management.

As a Network Engineer, I know that many IT responsibilities can not be done remotely. The post-pandemic world has a great demand for IT professionals as we transition to more connected and controlled corporate systems. Therefore, I feel like my role has become even more critical." [Eric McGee, Senior Network Engineer, TRGDatacenters]
Next to support, Jack Zmudzinski, a Senior IT associate, says that his biggest challenge has also been training employees so that they can effectively communicate their tech-related troubles.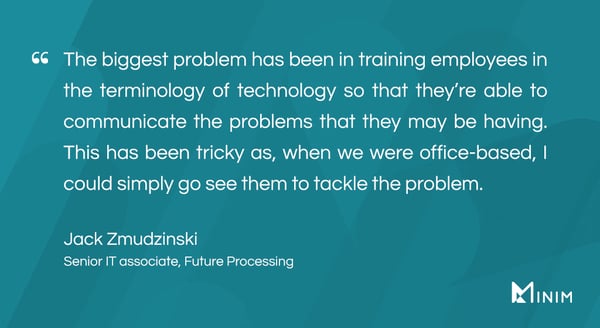 With an inability to troubleshoot problems in-person, the role of each IT team member has become much more difficult, despite the use of virtual communications. And with so many new attack vectors from employee home networks, it has become nearly impossible to track, mitigate, and manage technology problems— especially for small IT teams with limited budgets and resources.
Here are some words of advice from survey respondents on other top remote work challenges:
Additional manpower and time flexibility are critical
It's difficult to do any job without enough support, but with the added stress of working in a different environment that isn't always conducive to success (see working from home with kids), it can make things nearly impossible. Some distributed teams work across different time zones, leaving employees stranded if their schedules don't match up with their IT department's work hours. Onboarding new employees to the IT department to make up for that difference can also be particularly difficult during this time.
Deepak Shukla, founder of the award-winning SEO agency Pearl Lemon, believes that adding additional support for remote-based teams will help to better distribute the workload as well as have around-the-clock support for the rest of the company's employees.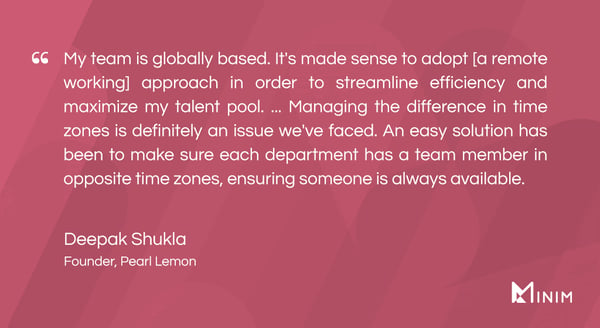 Carla Diaz, Co-founder of Broadband Search, says that her IT support team has not been immune to the distractions of working from home. Making certain to always have a staff member on hand (staggering shifts) has helped keep her company's tech secure and employees happy while working remotely.
"With employees' families also consistently being at home, there are more distractions for staff, meaning they may need to step away from their work every now and then during each day. Because of these distractions, we decided to implement more flexible work schedules, so that we could maintain efficiency and productivity. These changes didn't come without challenges for IT.

The new model meant that we needed to implement shifts for different IT staff so someone from IT could always be present in case of an emergency. Since the staff wasn't quite used to this, it took some time for everything to get back into a nice flow.

In addition, we adopted software to help us manage staff more easily in the new model, which again presented challenges for IT in terms of setup and implementation. Our IT members' had a lot of time taken up because they were often helping employees who were still trying to get the hang of it." [Carla Diaz, Co-founder, Broadband Search]
Communication is vital to any team's success
Have you ever found it difficult to get in touch with a coworker in the office to the point where an in-person trip to their desk was needed? Imagine this issue, now amplified, because of a lack of established virtual communication channels in your company.
Teams without a dedicated communications strategy will find dysfunction a constant part of their workday, leaving team members stressed and frazzled. Here is what some of our respondents had to say about solving this all-too-common issue: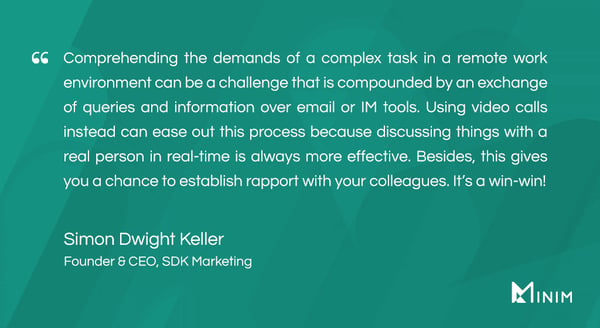 "One of the biggest issues that we've seen is communications, in the past, it was possible to get a handle on major incidents or if tech were having issues by being present in the office, you'd be able to overhear conversations," says Tim Donovan, Senior Deskside Specialist / Network Admin at Resolute Technology Solutions:
"Since COVID and remote working, it's been a lot harder to keep on top of this. In order to combat this we are using Teams chat groups and being more proactive when talking to colleagues in different teams. We are also using Teams Channels during major incidents to get the relevant techs onto a single chat to ensure that communication is as efficient and focussed as possible."
In addition to having a clear-cut communications strategy, IT teams have found the need to create and implement a comprehensive WFH plan that covers how employees are to sign equipment out from the office, access corporate resources while working from home, and submit WFH technology issues.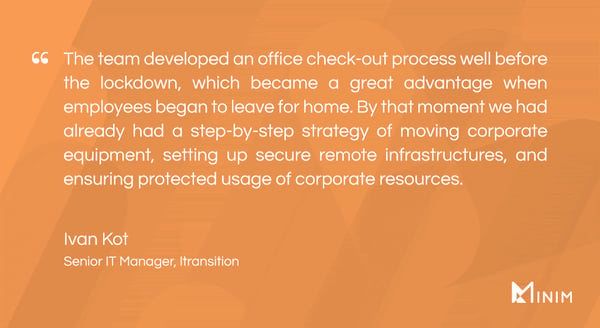 A strong WFH plan requires ongoing evaluation and tool stack enhancements—further highlighting the need for a solid communication strategy across distributed teams.
"As an IT professional, my biggest challenge was in getting everybody set up for remote working whilst limiting the downtime as our business is very much deadline-based. Not only did I have to make sure that everybody had the equipment that they needed in order to do their jobs but to make sure that they were trained to use some of the new tools we had set in place, such as automated workforce software. Since that time, my responsibilities have changed quite considerably as my role now involves a lot more support by telephone and Zoom and a lot more research into new technology to help us to stay ahead." [Jack Zmudzinski, Senior IT associate, Future Processing]
Conclusion: IT needs visibility and tools to efficiently manage remote workers
With over 40% of the workforce (and growing) working remotely, home networks are now acting as an extension of the corporate network. They need to be protected, and it's known that VPNs are not enough to do this job: there's troubleshooting, configuring, constant upkeep and monitoring, and much more to worry about. When it's multiplied by hundreds or thousands of workers, it can be enough to dismantle an IT team.
Here is where Minim can act as the support system for IT professionals:
Minim's Bring Your Own Network™ solution empowers IT teams with distributed network visibility and centralized control. With Minim, IT teams can remotely troubleshoot employee connectivity issues, check work device performance, monitor network vulnerabilities with real-time threat insights, and more. Plus, employees get access to these insights and tools too, which helps alleviate some of the burden otherwise placed on IT, not to mention help ensure employee privacy (check out our Work-Life WiFi feature set for distributed teams).
IT professionals will find that Minim can alleviate their top remote work challenges while providing better and safer WiFi to employees who are working from home.
See how Minim can empower your IT team and remote workforce: Sign up for a free demo account today.