Minim to speak at CONNECTIONS Summit at CES 2020
For the second time around, Minim is kicking off the new year at the annual Consumer Electronics Show (CES) in Las Vegas, NV. Dubbed "The Global Stage for Innovation", the show gathers more than 175,000 attendees, 4,500 exhibiting companies, and 1,000 speakers to discuss the latest in consumer technologies.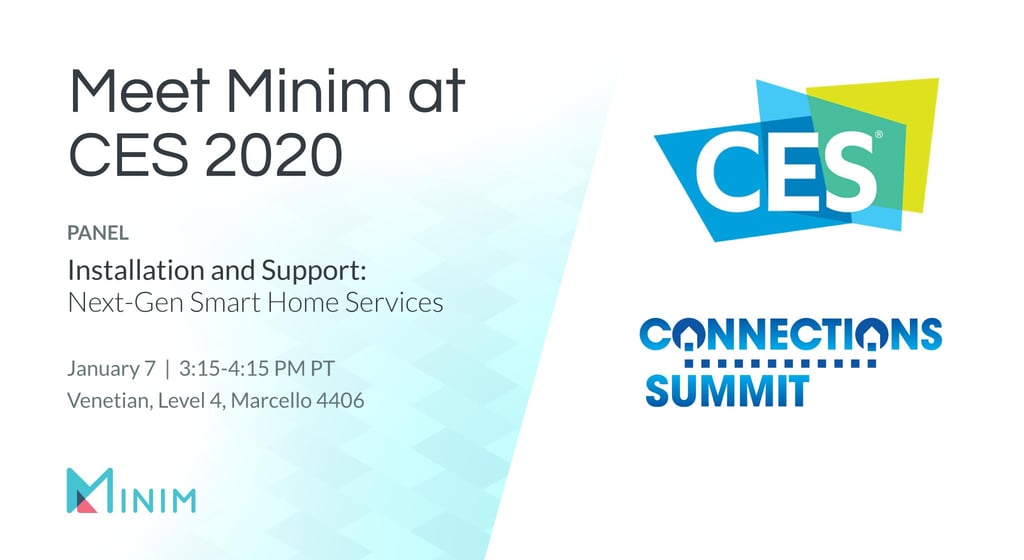 This year's 4-day event will cover a range of topics, including: Advertising, Entertainment, and Content; Robotics and Machine Intelligence; Health and Wellness; and, what we're particularly excited about, IoT and the Smart Home. Here's where you can find us at the show.
Meet Minim at CES 2020
Panel: Installation and Support: Next-Gen Smart Home Services | Venetian, Level 4, Marcello 4406
On Tuesday, January 7 at 3:15 PM-4:15 PM PT, Minim Founder and CMO/CPO Nicole Hayward is joining Peter Butler, General Manager of Everise; Patrizia Cozzoli, Deputy CEO of Fing Ltd; Jennifer Mallett, CEO of Level Up Your Home; and Craig Stermer, CEO of Compass Testing Services on this Parks Associates' CONNECTIONS Summit panel at CES 2020 to discuss supporting the smart home.
At the end of 2018, Parks Associates reported that more than 50% of consumers who set up smart devices themselves experience setup problems— and you will learn during this panel discussion that the numbers for 2019 have not improved. As more devices enter the home, improving the connected device experience has become a growing concern for numerous industries.
"I'm looking forward to joining the panel Installation and Support: Next-Gen Smart Home Services at the Parks Associates' CONNECTIONS Summit," said Nicole. "Our valued ISP customers are on the front lines of connected home support every day. It's getting increasingly tricky with every passing holiday season of unwrapped smart devices. I can't wait to bring their perspectives to the table and discuss opportunities for tackling home network complexity with AI from the edge— Minim's core discipline."
Will you be at #CONNSummit20? Tweet @nicolechirps to connect!
Exhibit: Find Minim in the GL.iNet booth | Eureka Park, Sands, Hall G - 52522i
GL.iNet is a leading developer of OpenWrt pre-installed WiFi routers and a Minim partner. At CES 2020 in the GL.iNet booth, you can see Minim live in action and learn about Minim Home Mesh, a whole home managed WiFi solution that uses Minim-enabled GL.iNet B1300 routers. Download the solution overview to learn more, or stop by the booth at the show!