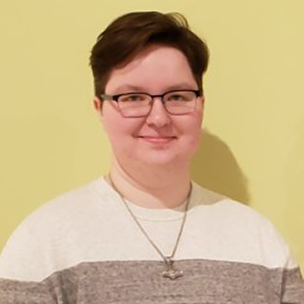 How to secure your home network for WFH [survey]
The sudden shift for companies from a permanent workplace to working from home comes with employee frustrations and dozens of security problems that can leave an IT helpdesk swamped. Learning to mitigate these issues and prevent them from happening in the first place is the best thing a company can do for its employees—and it'll pay off in the future too.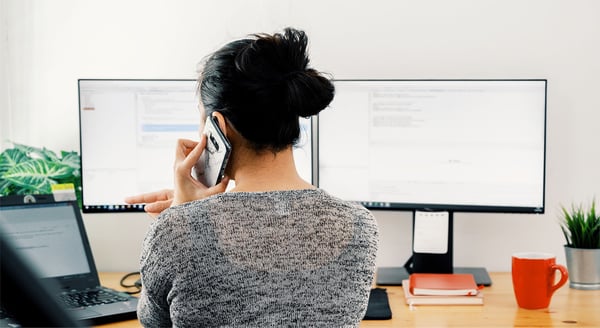 We sent out a survey to both upper-level management staff and employees affected by a WFH policy (N=30) pertaining to network and security challenges, and we had some great tips and feedback on cybersecurity home defense we wanted to share. Here's the breakdown:
Transitioning from the workplace to home
A sudden shift in any company is huge: using a new communications system, hiring a new CEO, or even changing from company phones to a BYOD policy. The transition from an on-site workplace to remote can break a company if it isn't careful, and plenty of measures need to be taken just in the IT department alone.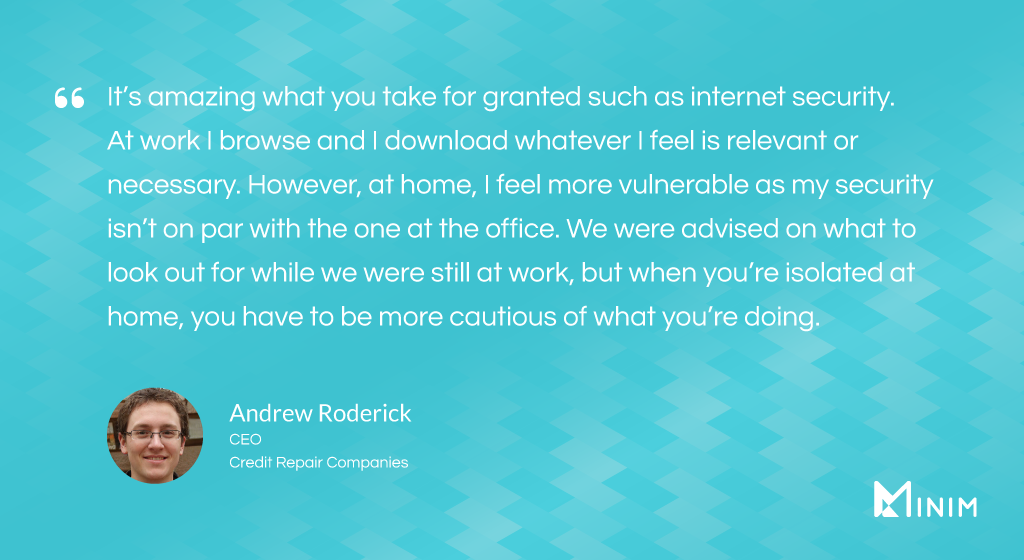 Prior to the WFH movement, InfoSec specialists created Bring Your Own Device (BYOD) policies for the office. Today, specialists need to develop Bring Your Own Network™ (BYON) policies— which brings about a multitude of issues as homes now have an average of twelve connected devices—and growing! It can be overwhelming not just for the IT department, but for the employees too.
In all of the responses we received from our survey, a vast majority of them mentioned a moderate-to-high level of stress surrounding the transition to WFH. The stress was often caused by a lack of technical knowledge on carrying on work as usual from such a vastly different setting, and the lack of IT support for others is what really gave them a hard time.
"After working from home, I never realized just how many things can go wrong with technology in a matter of days. Working from the internet solely means that I am almost tethered to it. So when it goes down... well it feels like the world has ended! I have had more phone calls with technicians in the space of three months than I have had in years." [Michael Lowe, CEO, Car Passionate]
What are some of the technical issues you're experiencing from WFH?
According to the answers from our survey, the most trouble employees are having is with their internet and networking devices. They aren't sure how to configure certain settings, how to practice safe browsing, and how to fix internet speed issues. Securing the home network for WFH can be a daunting task for someone with little to no experience.
"The transition from the workplace to working from home was quite a shock at first, to be honest. I thought I was prepared, but oh, how wrong I was.

I hadn't anticipated the internet speed. It's never an issue at work. To be honest, it's something that I never think of at work whereas at home I was constantly doing a speed test because downloading and transferring slides were really slow.

It's amazing what you take for granted such as internet security. At work I browse and I download whatever I feel is relevant or necessary. However, at home, I feel more vulnerable as my security isn't on par with the one at the office. We were advised on what to look out for while we were still at work, but when you're isolated at home, you have to be more cautious of what you're doing." [Andrew Roderick, CEO, Credit Repair Companies]
Do you feel supported by your IT department in the same way as working from the physical workplace?
Technical issues from WFH employees can easily overwhelm an IT helpdesk, especially if they're part of a small company or local business. It's often the case that there isn't anyone at all to troubleshoot technical problems and test internet speeds. Outsourcing IT support is often the answer these businesses turn to, but what if it just isn't in the budget? Smaller IT departments can only educate and adapt to WFH conditions so much.
"As a business manager who had to work from home full-time due to the pandemic, I play it extra safe with my devices and their internet connections. I carry this constant worry about damaging my laptop charger or breaking a key on the keyboard, which gives me problems due to the unavailability of physical IT support. My agency sends emails educating about resources (VPN, for instance) but there is still no clarity as to what an employee should do if their charger shorts or they are affected by malware. This helps to some extent but the hardware issues still remain." [Tejas Nair, Content Business Manager, Performics India]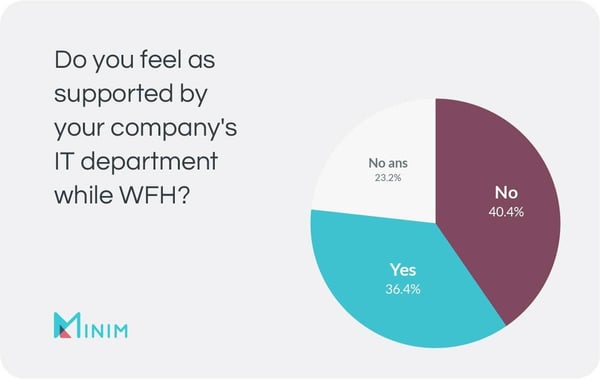 Chart text: Do you feel as supported by your company's IT department while WFH? Yes = 36.4%, No = 40.4%, No answer = 23.2%.
As we can see from the chart above, the individuals who responded to the survey believe that IT departments are certainly doing their best—but it's still a struggle. It's nearly impossible to provide the same level of support an in-house department can provide, and when there's no physical aspect to the assistance it can only make things harder for both the IT department and the employees.
Rex Freiberger, the CEO of tech magazine Gadget Review, says that his company outsourced their IT department. When coupled with the tech-savviness of the company's employees, they were able to get everything up and running both quickly and seamlessly:
"Most of our IT is outsourced and handled remotely, so the transition has been pretty smooth for us, thankfully. We did have some issues in general with people getting set up; mostly insufficient hardware. Our employees tend to be very tech savvy, though, so we didn't have any overwhelming issues.

The biggest problem was security. Many employees were using hardware that just wasn't updated with the latest firmware or didn't have the ability for the encryption we needed. We paid to send our employees adequate hardware, and also to get them VPN subscriptions and other software to help protect their network and the data we frequently share across it.

Our IT contractor was actually very helpful in getting this set up for everyone. He's the one who suggested the software and the specific router brand." [Rex Freiberger, CEO, Gadget Review]
Although not every company will have employees that boast an affinity for the latest tech, providing documentation or a tutorial that's been approved by or created for the company can ease the strain and stress caused by a WFH transition.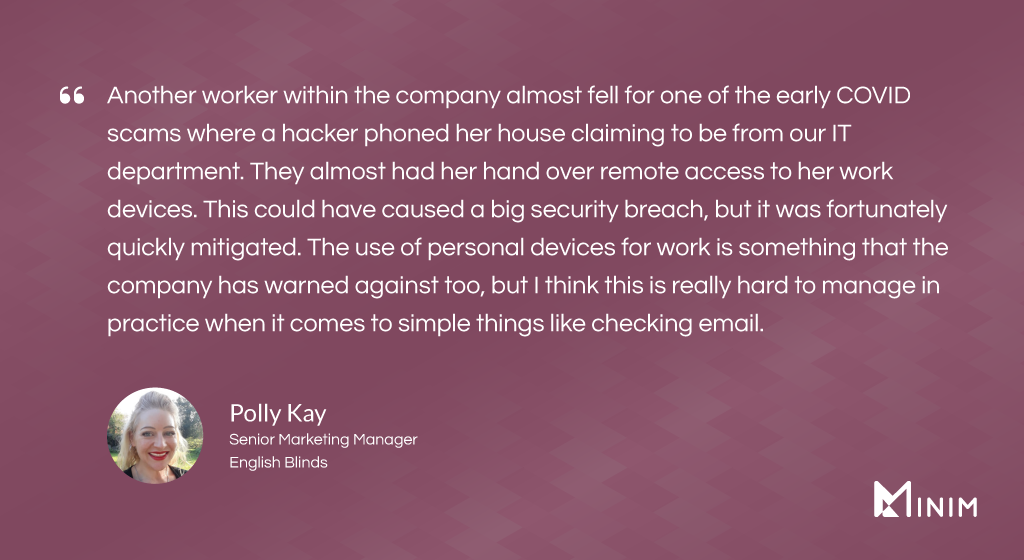 Was there an emphasis on data security or an available tutorial on keeping your company's data safe?
Most tech-savvy employees know the basics: use a VPN, don't use public WiFi, keep company laptops and phones secured with a password. But hackers can still find ways around these implementations, and it just isn't enough without continuous training and support.
Here's what some of the responders to our survey had to say in their responses: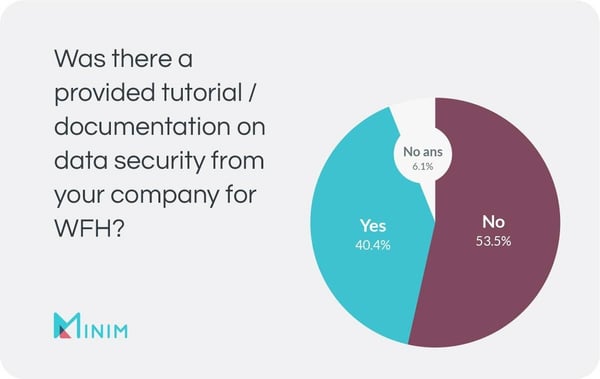 Chart text: Was there a provided tutorial / documentation on data security from your company for WFH? Yes = 40.4%, No = 53.5%, No answer = 6.1%.
According to the individuals we interviewed, 53.5% percent felt that their companies could be doing more to provide documentation, training, or bringing awareness to security issues that can strike those working from home. And according to a study of over 1,000 workers conducted by Utility Bidder:
45% said they do not feel supported by their employer's IT department
32% said that a very small amount of support was provided to them
13% said they had received no support whatsoever from their company while switching to WFH
Polly Kay from English Blinds says that she witnessed first-hand a fellow employee who was affected by a hacker attempting to steal company information while posing as the company's IT personnel during work-from-home conditions.
"Another worker within the company almost fell for one of the early COVID scams where a hacker phoned her house claiming to be from our IT department. They almost had her hand over remote access to her work devices. This could have caused a big security breach, but it was fortunately quickly mitigated. The use of personal devices for work is something that the company has warned against too, but I think this is really hard to manage in practice when it comes to simple things like checking email." [Polly Kay, Senior Marketing Manager, English Blinds]
In our survey, both employees and business owners felt that their company was not doing enough to secure their data, or that enough was being done by only implementing a VPN. Using a VPN is certainly not enough. (Find out why in our blog VPN: from protector to attack conduit in the new remote work era.)
Providing a security tutorial or documentation specialized to fit the company and the tech skills of its employees is the best plan for the switch to WFH, and knowing the risks WFH brings and how to mitigate them benefits everyone.
Conclusion: How to secure your home network for WFH
The shift to working from home has presented an entirely new set of challenges both to the employee and to the companies they work for. For some IT departments, keeping up with the pressing issues that BYOD and BYON™ policies present can be difficult, and in some cases, impossible.
Companies should consider investing resources into internal training that will help their employees understand the risks presented with WFH, and working with a partner that understands at-home security can provide benefits for both now and in the future.
Minim's Bring Your Own Network™ solution to these problems is providing a reasonable and affordable service that can aid IT support teams by providing crucial data, and allowing employees around the clock DIY technology troubleshooting.
---
Other blogs you might like: