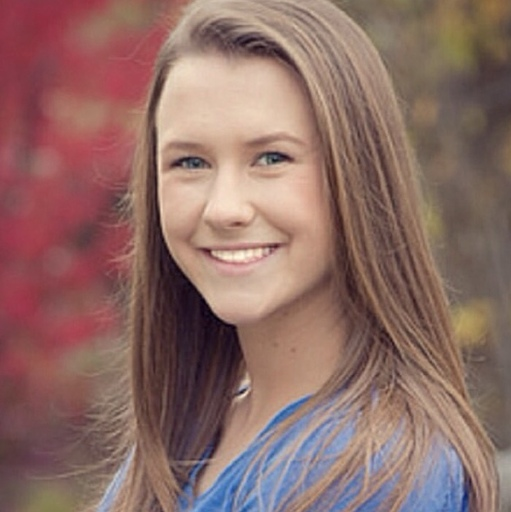 Best cable modem router combo for Xfinity: Motorola MG8702
If you've thought about buying your own cable modem router combo (or gateway) to cut down on those monthly rental fees, you're certainly not alone: Minim's retail partners are reporting a 40% uptick in consumers purchasing their own internet connectivity products. Although there are benefits to renting equipment from your cable provider, such as the setup support, it can become rather costly long-term. So, if you're in this camp of searching for the best networking equipment to buy on your own, check out our pick for the best cable modem router combo for Xfinity below.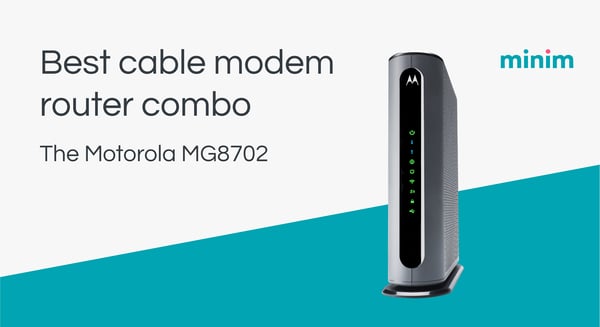 What should I look for in a cable modem router combo?
Before we dive into our top pick (the Motorola MG8702), let's first take a look at what attributes you ought to consider when making this purchase. In addition to ensuring the device is approved by and compatible with Comcast Xfinity service, we suggest asking these questions:
Which Data Over Cable Service Interface Specification (DOCSIS) standard does the device support? Support for the latest standard, DOCSIS 3.1, can help ensure you get to experience the fastest possible speeds— but it all depends on what is being offered by your ISP. If your ISP isn't yet offering 1GB+ speed plans, you can likely stick with a less expensive DOCSIS 3.0 device. (Note: DOCSIS 3.1 is backwards compatible with DOCSIS 3.0, so you could choose to upgrade sooner.)
Will the device protect my network and personal data? Minim has found that 59% of home networks have malware present and your modem router is one of the top attack vectors— remember the Cable Haunt vulnerability that exposed 200 million cable modems worldwide? If you can, purchase a device with exploit detection, and better yet, prevention, features.
Will the device have a strong enough WiFi signal to reach every room in your home? There's no point in paying top dollar for the best ISP speed plan when your network's WiFi signal strength doesn't meet your needs.
Does the device have enough Ethernet ports for any hardwired device connection you may need? Does it also feature a USB port to share storage drives over your network? You'll want to know which hardware features are available to optimize your connected experience.
Does the device have MU-MIMO technology? MU-MIMO, which stands for Multi-User Multiple-Input Multiple-Output, is a newer technology that helps multiple connected devices communicate with your router simultaneously— key in the IoT era of 12+ devices per home. There are different variations of MU-MIMO (you'll see 2x2, 3x3, 4x4...) that indicate the number of bandwidth streams the router can divvy up to support multiple device connections equally.
With these key questions in mind, let's now explore our picks for the best Xfinity-compatible cable modem router combo.
Best cable modem router combos for Xfinity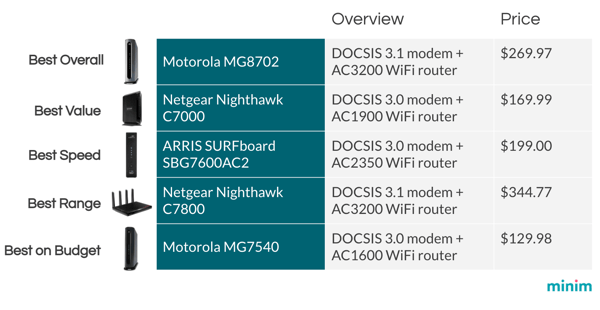 Imagery and data taken from Amazon on January 28, 2021. Pricing may differ at the time of reading.
Best Overall: Motorola MG8702
The price-to-performance ratio of the DOCSIS 3.1 Motorola MG8702 puts this device at the top of our list. Suitable for every speed up to the 1 Gigabit service from Xfinity, the MG8702 provides the fastest and most robust connections over the largest possible range, all at the affordable price of $269.97 on Amazon.
Wireless Power Boost, Beamforming, and 4x4 MU-MIMO technology deliver a stable signal to enable lag-free, simultaneous 4K and HD streaming, gaming, and video conferencing throughout your home. Plus, you won't need to worry about network congestion with the 4 Gigabit Ethernet (GigE) LAN ports and IPv4 and IPv6 support. The MG8702, which is also certified for Cox and Spectrum, stands apart with its intelligent Minim® mobile app that allows users to manage and optimize their home network from anywhere. Key features include: guest network management, bandwidth usage monitoring, parental controls, speed testing, AI-driven network security, device signal strength insights, and more.
Motorola's 2-year warranty (2x longer than most other retailers) solidifies the MG8702's spot as the best and most reliable investment for cable modem router combos in 2021.
Best Value: NETGEAR Nighthawk C7000
For those looking to spend a little less, the Netgear Nighthawk C7000 offers solid wireless performance at $169.99 on Amazon. Although this model doesn't support MU-MIMO or QoS capabilities, it still enables AC1900 dual-band connectivity for speeds up to 600 Mbps and 13,000 Mbps on the 2.4GHz and 5.0GHz bands respectively. The Netgear Nighthawk C7000 also features four Gigabit Ethernet ports and a USB 2.0 port to hook up printers or external hard drives for all of your basic connection needs.
Best Speed: ARRIS SURFboard SBG7600AC2
If it's speed you're looking for, look no further. With a maximum throughput of up to 600 Mbps, the latest DOCSIS 3.0 modem router combo from ARRIS offers 32x8 channel support for download speeds as high as 1.2Gbps and WiFi speeds up to 2350 Mbps (just be sure to check the compatibility with your internet speeds before purchasing). This device also features four gigabit Ethernet ports to mitigate WiFi congestion and comes with the ARRIS SURFboard Manager app for an improved user experience. Buyers can take advantage of the built-in AC2350 dual-band router with 8 upstream and 32 downstream channels for only $199.00 on Amazon. Note: This device has not yet been approved for Gigabit plans.
Best Range: Netgear Nighthawk C7800
One of the more expensive modem router combos currently on the market is the Netgear Nighthawk C7800, which can be yours for $344.77 on Amazon. Four external antennas deliver WiFi speeds of up to 3.2Gbps across 3,000 square feet of living space— 1Gbps on the 2.4GHz band and 2.2Gbps in the higher 5GHz range. Also located on the back of this device is a coaxial cable port for internet and power input, four Gigabit Ethernet ports for your wired connections, two USB 3.0 ports, and a built-in DLNA support to stream your media directly to your smart TV or game console. For anyone willing to splurge, this device is a solid investment. Just keep in mind that the C7800 is rather large in size (12.4 x 10.4 x 7.5 inches and a staggering 1.4Kg in weight) so if you're looking for something small and discrete, you may want to check out some alternatives.
Best on Budget: Motorola MG7540
Coming in last, but certainly not least, the Motorola MG7540 DOCSIS 3.0 cable modem and Dual-band AC1600 WiFi router packs some serious punches for only $129.98 on Amazon. With Wireless Power Boost to amplify your signal and MU-MIMO technology extending a secure, powerful connection to multiple devices at once, this device is worth a second look. The MG7540 was designed to deliver true DOCSIS 3.0 speeds of up to 686Mbps and upload speeds of up to 123 Mbps. Equipped with a Broadcom chipset to save you from DoS attacks, four gigabit Ethernet ports for a faster hardwired connection, and a 2-year Motorola guarantee, it represents a major value proposition to customers looking to secure a reliable investment while still pocketing some savings.
Additionally, you can check out this article featuring an updated list of Comcast Xfinity-compatible modems, including the Motorola MB8600, that are perfect for bringing you up to speed in 2023.
Conclusion
Whether you're looking to save money or splurge on a top-of-the-line device, it never hurts to get a little more insight before you buy. We hope the above cable modem router combo comparison helps you get the most out of your Xfinity internet service.
Like this blog?
Subscribe to our newsletter.