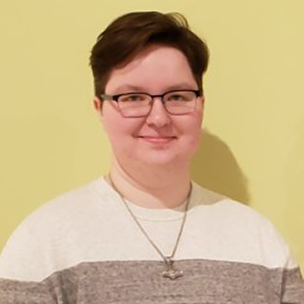 Top alternatives to Cisco Meraki for remote working
Cisco Meraki, one of the industry-leading cloud-managed IT solutions, offers a suite of enterprise network management products: WLAN, next-gen firewall, unified network insights, and more. Its feature set is great for larger businesses and enterprises, but what about smaller offices and residences?
Businesses across the globe are wrestling with managing and securing smaller satellite offices and remote worker networks as these are now critical points of the business infrastructure. If you feel that the Cisco Meraki solution isn't the right fit for your business, or you're looking for all of the available alternatives before making your decision, you've come to the right place.
Cisco Meraki alternatives
There are many options on the market that act as direct alternatives to the Cisco Meraki platform. A few of the most-used and most recommended by industry professionals include:
Each of these alternatives has unique hardware, licensing, and support schemas that can be configured to suit both SMBs and enterprises. These elements can add up to a very large upfront payment, however, and not all of these solutions are great for a remote working focus.
Fortinet, Mist, and Aruba stood out in our research as strong contenders to Cisco Meraki for large businesses:
In a nutshell, these products are designed for a seasoned IT professional and larger business setting. They are impractical for distributed workforces for a number of reasons, including price, configuration complexity, unnecessary features (e.g. asset tracking), manual performance SLA setup for deployments, and lack of intel on smart home devices.
Better options are out there for small-scale and residential implementations.
Meraki alternative for home networks and small offices
For a platform to mold well for residential usage, it should meet several criteria:
The solution should be easily implemented, and users should expect easy deployment right out of the box.
The solution should be easy to configure with cloud-driven control and easy management for even Tier 1 IT support.
The solution should have integrated residential policies inherent to its development—every home is different, and every individual need should be met with a fully-customizable solution.
The solution should provide next-gen protection, with threats actively identified and neutralized while consumer devices are actively monitored.
The solution should be the right size for residential implementation.
Following these criteria, Cambium Networks, Datto Networking, and Minim stood out in our research as the top competitors to Cisco Meraki:
Small Office - Cambium Networks has good hardware solutions for small offices and Multiple Dwelling Units (MDU) with a comprehensive monitoring software system on a budget. It has a Gartner Peer Insights review of 4.5/5. Datto Networking is also a budget-friendly choice for small offices (TrustRadius rating of 8.4/10). However, neither of these solutions specialize in consumer device fingerprinting and providing usable, automated guidance to everyday users in their home.
Remote Worker - Minim is perfect for cloud-managed WiFi and security for businesses to support their remote workforce. Minim comes with automatic threat protection, work-life WiFi support within the home, and end-user configuration to take the strain off of IT teams.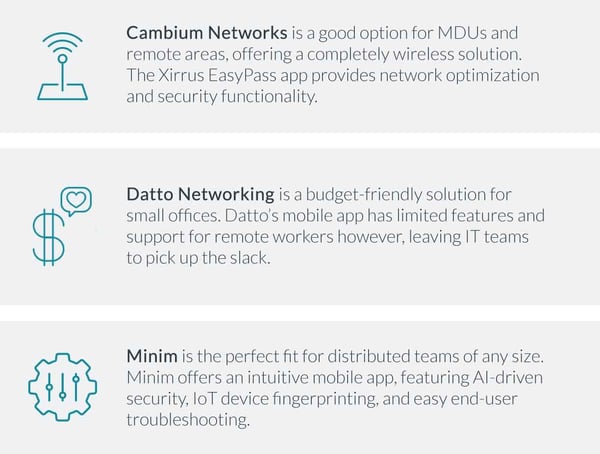 The downsides to Cambium Networks and Datto Networking as solutions for businesses with remote workers include their limited app functionality and price points. End users will find it difficult to configure their home networks without technical assistance from the IT team at the workplace, and these apps require subscriptions that can really add up over time. Additionally, the initial cost of the hardware to purchase and then install (they require installment fees) is relatively high.
Minim's model covers these areas and more, standing out as the best solution overall for remote working. It's the right solution for the right price, and it was designed with distributed teams in mind from the beginning. Plus, Minim works right out of the box, so there are no installment fees and end users can set up their networks themselves.
Because of its scalability, proprietary AI-driven fingerprinting technology, and intuitive app, Minim is the best fit for residential management. And with new Work-Life WiFi features, Minim is perfect for distributed teams.
But how does Minim stack up against Cisco Meraki as an at-home alternative? Here's how:
Minim vs. Meraki for remote workers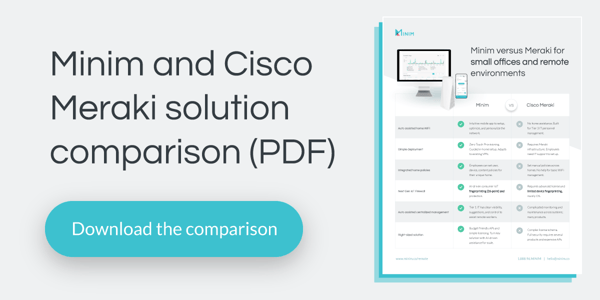 Auto-assisted home WiFi
Minim boasts an award-winning intuitive mobile app to setup, optimize, and personalize the network. Meraki has no in-home assistance and is built for Tier 3, seasoned IT personnel management only.
Simple deployment
Minim has Zero Touch Provisioning (ZTP), a guided in-home initial setup out of the box, and adapts to existing VPN and firewalls. Meraki requires the Meraki infrastructure to be installed within the home and employees require IT support to set it up.
Integrated home policies
Employees can set user, device, and content policies for their unique home situation with Minim, but with Meraki, IT teams need to set manual policies across homes with no help for basic WiFi management.
Next-Gen IoT Firewall
Minim has built-in AI-driven consumer IoT fingerprinting software (26 points) and actively monitors and protects the home network, crucial for networks that need extra protection to keep businesses safe. Meraki delivers a fraction of the device fingerprinting feature and requires an advanced license to do so, leaving home networks open to threats that can compromise sensitive data.
Auto assisted centralized management
Minim provides more usable and accessible interfaces for Tier 1 IT, with clear visibility, suggestions, and control to assist remote workers.
Right-sized solution
Minim is budget-friendly with simple licensing and provides an AI-driven solution for scalability. Meraki has a complex license schema with expensive APs and additional products for security.
The criteria for residential implementation are core to Minim's at-home solution. Minim is built for a significantly lower price point, consumer device management, and privacy. Meraki only provides limited IoT device fingerprinting and security with advanced licenses that increase the total cost of implementing their solution.
Minim provides a simpler individual configuration experience in the home environment. With guided setup in a mobile app, users are empowered to configure their own WiFi—leaving network administrators the ability to sit back and relax for the little things.
Minim's Work-Life WiFi feature set creates the perfect experience for end-users and administrators alike.
With the Minim® Mobile app, end users can organize their Minim system into separate Home and Work networks, granting IT teams the visibility into users' work networks for support and security. Work networks will appear in the Minim Edge Extend web app for business IT personnel to centrally manage and monitor.
The separation of the two networks (Work and Home) keeps businesses more secure while also providing employee privacy, and with "Isolated" mode activated, communications between devices on both networks are prevented (preventing another attack vector).
To find out more about how Minim can be the perfect solution for distributed teams, click the link below to download our full Cisco Meraki comparison.
---
Cisco Meraki is a registered trademark of Cisco Systems, Inc. and its products/services are not affiliated with Minim. The information in this post has been collected through research of information made available on the internet. Minim believes the statements made in this post to be accurate as of the post publish date.