Minim participates in Verizon and Samsung NextG Build workshop [event recap]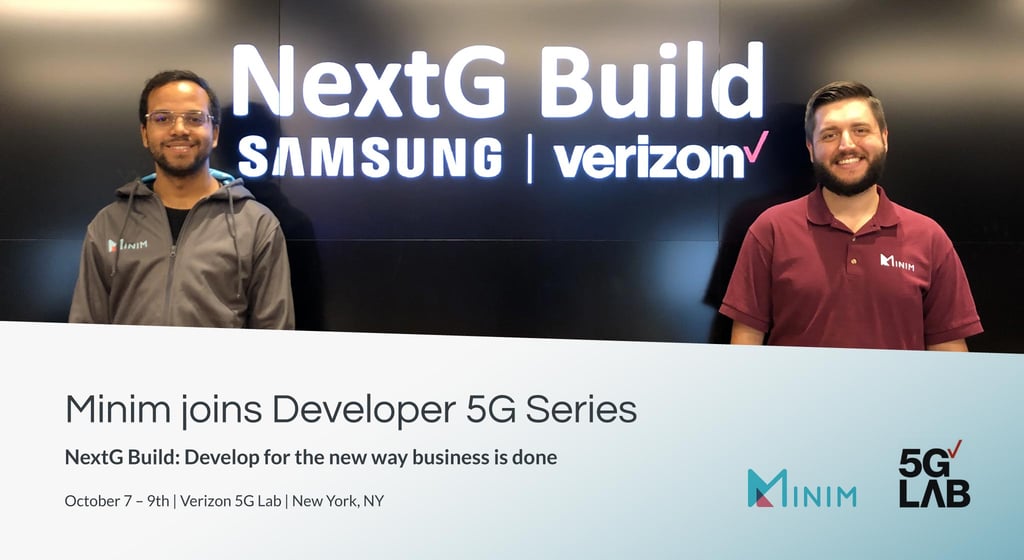 Last week, Minim Engineer Zack Mattor and Minim Product Manager Nehemiah (Nemo) Blackburn joined other tech enthusiasts and developers in NYC for an event put on by Verizon and Samsung— the NextG Build: Develop for the new way business is done workshop. Here's Zack and Nemo to tell us a bit more about the event.
Tell us about the NextG Build
Nemo: A collaboration between Verizon and Samsung, the NextG Build was a hackathon that allowed 5 teams to learn about 5G technology from Verizon's experts and use that knowledge to develop new projects with 5G in mind. As participants, we also got to play with brand new 5G-enabled Samsung mobile devices and learn about some exclusive capabilities that we ended up leveraging for our project.
Zack: Yeah, we were able to get our hands on new technologies and 5G-compatible devices, as well as some vital resources and face-time with the product managers and engineers working on Verizon 5G. Samsung also had a strong presence at the event showing off their new 5G-enabled smartphone— the Galaxy Note 10. It has a really cool DeX mode which allows you to connect it to a USB-C monitor and drop into a full desktop environment— a very useful tool for a mobile IT support member. They also had a TV crew there on the second day and we were interviewed, so be on the look out for some more material from the event!

Tell us about the Minim project
Zack: We wanted to show off how 5G will provide fiber-level service to many businesses that currently don't have that at their disposal. With Verizon spinning up a few 5G towers around a building, they can easily provide fiber-level service to every company in the building using a 5G modem. This is a much more efficient option than running fiber throughout the entire building. Along with this though, there comes a boom in connected devices which opens up a whole slew of problems that Minim helps solve via our device identification, network management, and IoT security capabilities. And so, we built a version of our mobile app to be more business-centric and to be optimized for the devices seen in the office vs. the home.
Nemo: We know that modern offices are IoT-enabled, and so we grouped devices we commonly find in these offices into categories: Video Conference Equipment, Smart Locks, Tablets for Mail and Guest Check-In, Essential Network Infrastructure, Company-Issued Hardware, BYOD... While Minim's existing technology enabled us to form these categories and group devices accordingly, we ideated on ways we could automate functions for each category. For example, BYOD devices should get less bandwidth than those assigned to Critical Network Infrastructure.
How did the demo go?
Zack: Demo went great! That's me presenting below. We only had a handful of minutes so we quickly went over a few slides showing off the 5G business use case, and then we dove right into the Minim application!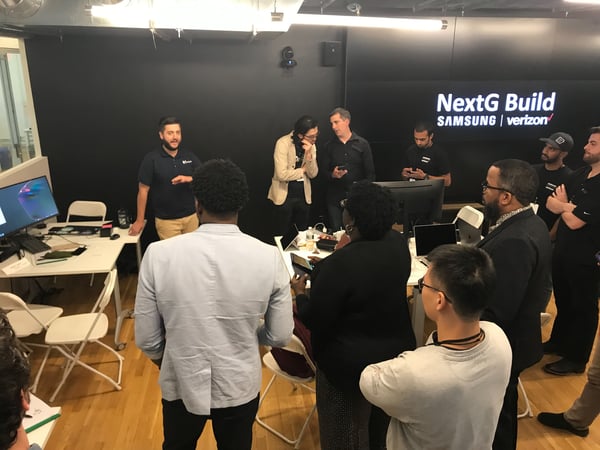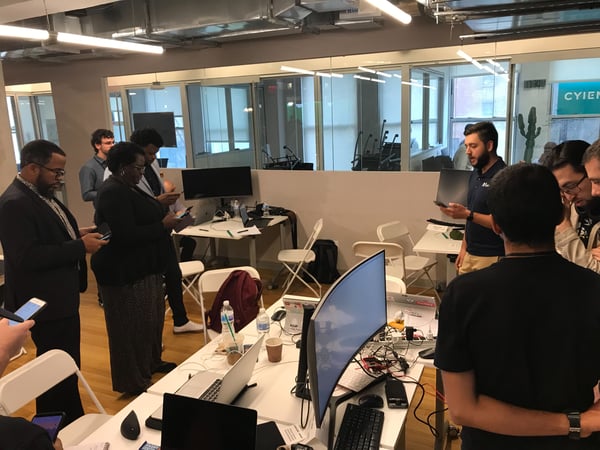 Nemo: We set up a Minim-enabled GL.iNet B1300 in the Verizon 5G demo lab. For the demo, we asked our fellow participants to join the network. We paused all their devices and an Amazon Alexa to demonstrate how, through the Minim mobile app, we could block internet access to the devices. Nobody could connect to the internet!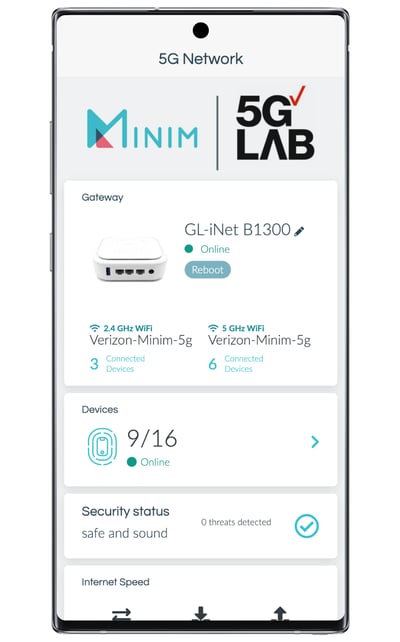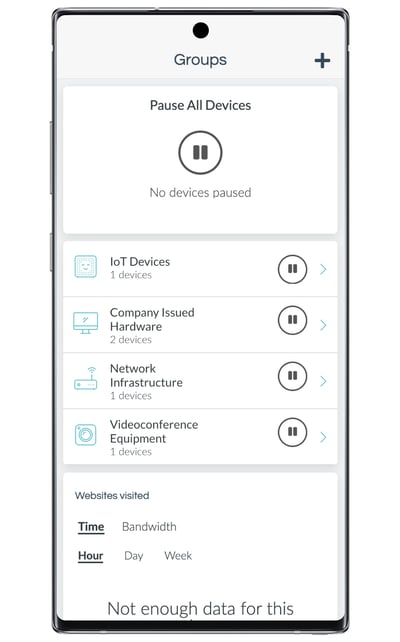 Minim mobile app designed for the 5G business use case
What's exciting about 5G?
Nemo: One of the most exciting things about 5G is the speed, which is expected to be 10x faster than LTE. But a subtler exciting trait is the ability for IoT devices to connect wherever there is a cellular signal. This means even our cities will be IoT-enabled!
Zack: Along with the increased speeds, 5G will be much more efficient in terms of power usage. Using Massive MIMO antennas and beam forming, it can achieve much greater energy efficiencies (You can read more about this here). And above all else, the promise of Mobile Edge Computing (MEC) is very exciting. MEC basically provides closer access to edge computing for the mobile networks— allowing applications to have extremely low latency between the mobile device and compute nodes for quick response times. There's a long way to go before we see all of these technologies wide-spread, but it's definitely going to be an exciting ride and I'm very excited to watch it progress!