Minim feature spotlight: Recommendation Engine
Last time, I gave you a sneak peak at a Minim feature that helps operators identify the access points in range of a home's router in order to minimize network interference problems. Today, I want to share another Minim feature that gives operators a hand in improving the connected device experience for their subscribers. This feature is Minim's Recommendation Engine, which provides insight into what frequency band a connected device should operate on.
What is the Minim Recommendation Engine?
Description
The Recommendation Engine stems from the fact that our IoT devices each require certain signal strengths to properly function. We take a close look at the connected devices on a home's network and identify the device 's attributes, ranging from the device's factory recommendations to its actual performance capability. With this information, we then provide actionable recommendations for operators to share with their subscribers.
When looking at a particular LAN in the Minim Care Portal, the operator can find these recommendations on the Overview tab by scrolling down to the table of connected devices. The "Issues and Alerts" column of that table will include any recommendations Minim has for that connected device. Here's an example of what this looks like: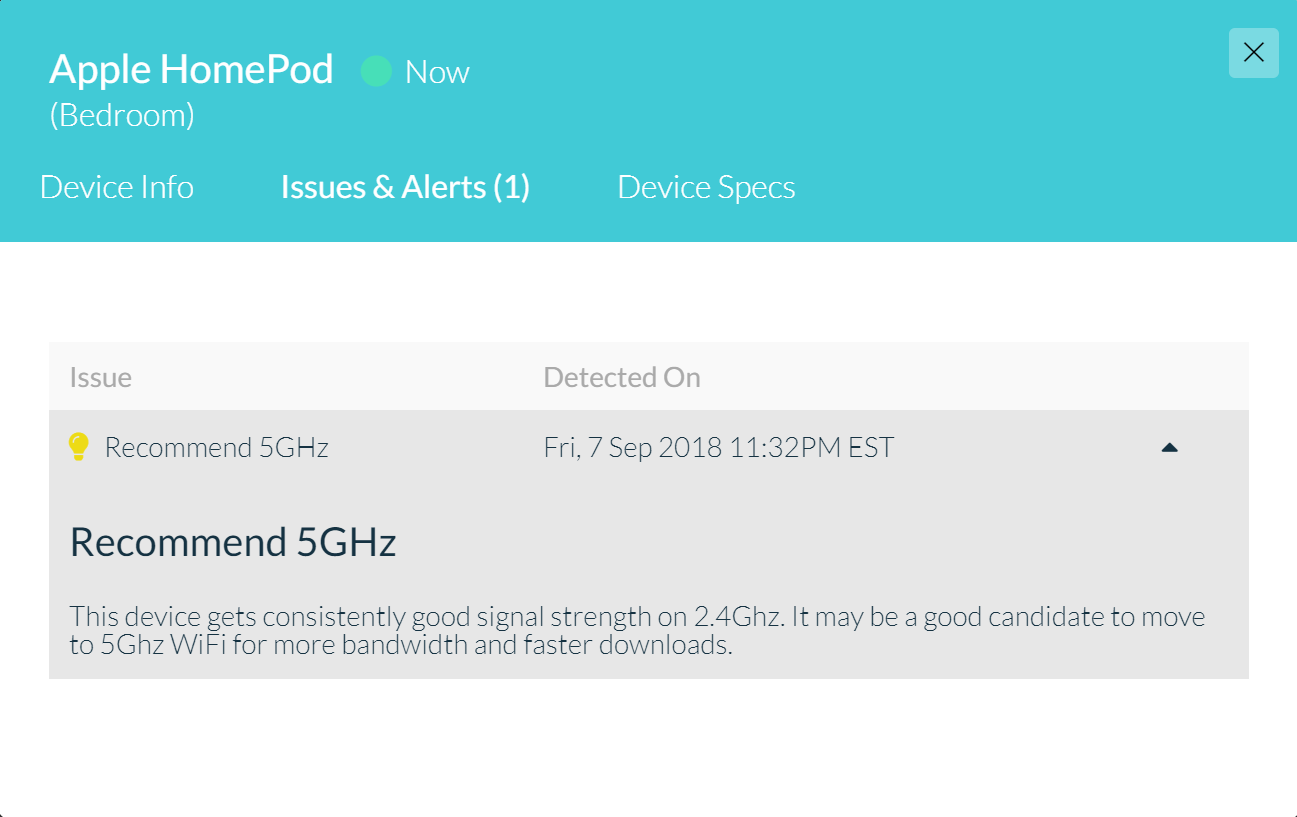 Minim Recommendation Engine
We recommend 5GHz for a few reasons, such as less network congestion and higher bandwidth throughput. To make this recommendation, we consider the following:
Does the device support 5GHz? (We get this information from our IoT database and fingerprinting capability.)
Has the device experienced a great signal strength on 2.4GHz? (This is important to consider seeing as a switch to 5GHz means less range.)
Benefits
At Minim, it is our goal to help operators transform the subscriber experience, and a way to do this is through offering exceptional customer service. The Minim Recommendation Engine is a powerful component of our residential managed WiFi solution that helps operators provide best-in-class support. Operators can see which of a home's connected devices are experiencing low signal strength and be given actionable steps to take towards improving that device's overall performance, in turn improving the subscriber experience.