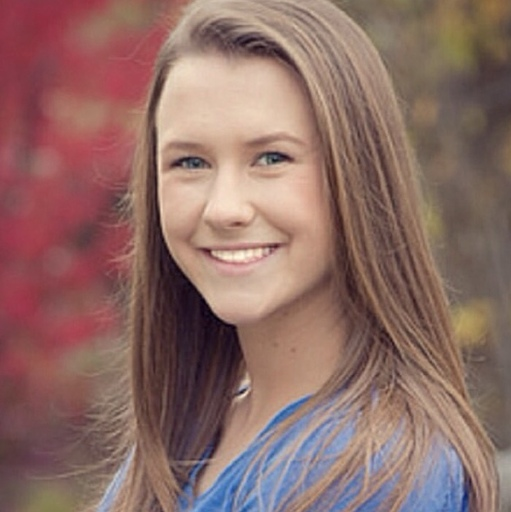 Managing remote teams: your toolkit for leading a distributed workforce
With the effects of the pandemic still lingering, the new corporate edge is the employee home: 82% of companies plan to allow remote working policies post-pandemic and 70% of U.S. executives are already looking towards new IT infrastructure investments for the virtual workplace in 2021. In other words, the days of meeting at the watercooler and grabbing lunch with coworkers are behind us.
Re-imagining what it means to create a productive and secure work environment sparks the need for innovative remote technology solutions. Fortunately, there are a variety of reliable tools available to help executives and managers overcome the new challenge of this remote era, especially when it comes to securing, supporting, and motivating their distributed workforce.
Key challenges (and solutions) to managing remote teams
1. Measuring remote productivity
At Minim's recently held webinar hosted in partnership with TMCnet, Thomas Moran, Chief Strategy Officer of productivity intelligence software company Prodoscore, discussed the importance of harnessing performance measurement tools when managing remote teams.
Actively disengaged employees cost the U.S. $450 to $550 billion per year in lost productivity, meaning that to survive in today's business climate, managers need reliable performance metrics to ensure workers are engaged daily. But it's become increasingly difficult to gauge performance KPIs with a distributed workforce— things like which projects your employees are working on, how long tasks are taking them, and how engaged they feel are that much harder to monitor.
Many cloud-based business apps have analytic components, but it's difficult to measure multi-dimensional elements of productivity from remote systems. Lagging indicators also make it hard to manage outcomes.
This is where solutions like Prodoscore come in. Prodoscore leverages machine learning, AI and Natural Language Processing (NLP) to capture and analyze accurate, rich data about employee behavior and daily activity from popular business apps. The metrics are easy to understand and translated into a simple, productivity-based score to enhance organizational outcomes accordingly.
Senior executives are now being forced to ask some difficult questions on their business continuity plans, employee retention, and performance improvements. Prodoscore delivers actionable insight into employee performance and growth for leaders to make well-informed decisions in these arenas.
2. Maintaining workplace communication
Next to measuring remote productivity comes overall distributed team communication. Your internal communication has a direct impact on employee productivity, collaboration, motivation, and engagement. In fact, employee productivity has been found to increase by 20 to 25% in organizations where employees feel well connected.
Employees have been feeling quite the opposite lately as a result of their distributed environments; 74% now feel that they're missing out on company information and news. In order to effectively communicate expectations and keep your team on track, it's critical that managers take the time to connect and regularly check-in via video calls and messages.
Unified communication platforms like Dialpad can help keep teams more informed and connected. Dialpad specifically is a cloud platform that integrates voice, video, and messaging communication methods. Its advanced feature set also enables team leaders to streamline their business communications, helping improve both employee connectedness and productivity.
3. Securing the distributed workforce
Last and certainly not least, remote teams have the challenge of ensuring WFH security. While IT teams were already stretched thin prior to widespread remote work, they now have a larger threatscape and limited visibility into employee home networks to worry about.
The past few years have seen smart home device adoption skyrocket, leading to a 600%+ YoY increase in home IoT threats as the majority of these devices are not secure by design. Now as a result of work from home, 88% of businesses have seen an increase in cyberattacks.
At the same time, traditional enterprise security solutions like the corporate VPN are falling short in addressing these concerns. Even prior to the pandemic and widespread WFH, 64% of VPN users cited that their current solution was underperforming.
This landscape has highlighted the need for businesses to take a more layered, Defense-in-Depth approach to cybersecurity: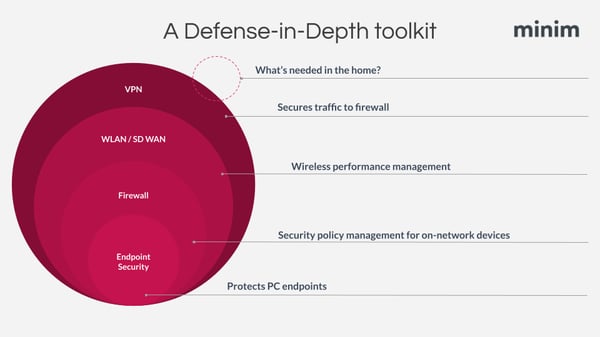 But, as shown above, what additional tools are needed to secure the home environment? Minim's Bring Your Own Network™ (BYON) solution was designed to fill this void— helping businesses both secure and support remote employees.
The Minim solution delivers AI-driven cloud-controlled WiFi with a next-generation IoT firewall that automatically identifies all devices on the network, monitoring for vulnerabilities to deliver security alerts in real-time. Easily deployed to the employee's home via a single powerful WiFi system, employees and IT teams are given usable apps for remote network visibility, issue troubleshooting, vulnerability analyses, home policy security settings, WiFi performance indicators, network personalization, and more.
Interested in learning more about remote work technology solutions?
While the solutions shared here can help companies of all shapes and sizes address key remote work challenges, we understand that all teams are different. To help you make more informed decisions on your organization's technology stack for remote work, we invite you to take the free Minim® Remote Scorecard technology assessment. Your results will help you learn how prepared your business currently is to secure and support remote employees, plus provide you with custom IT investment recommendations!