Digital parenting: 5 ways to use parental controls in the smart home
Understandably, parents are concerned about safe and healthy online practices. Children as young as 6 years old "own" a smartphone, and more than half of children ages 3-18 use the internet at home. With so many connected devices and streaming services, families face a massive challenge in monitoring screen time and content viewing. And so, in honor of National Cybersecurity Awareness Month, we're breaking down 5 ways to become a digital parenting superstar in your smart home— right from our team members and experts.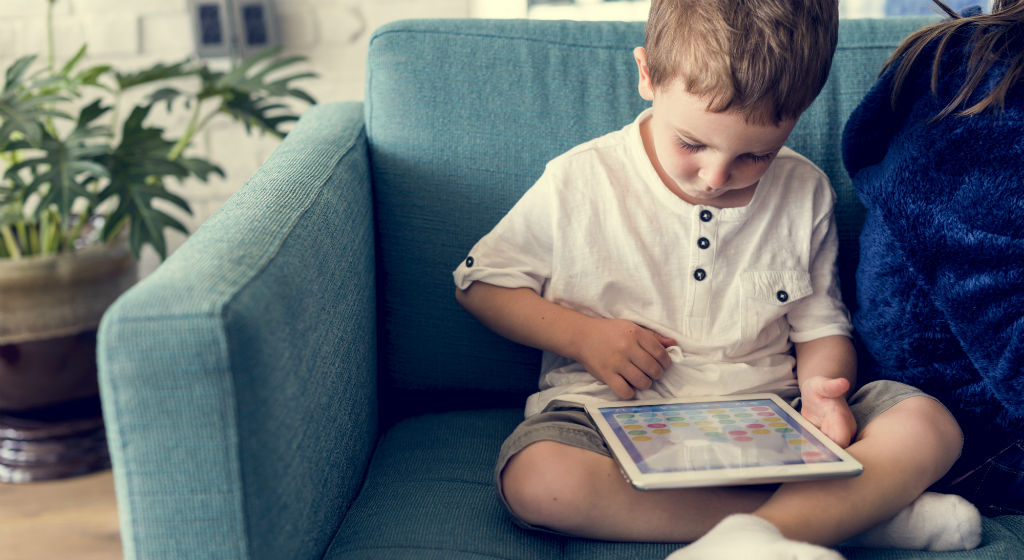 Before we dive in, let's consider what parental controls in the smart home look like today. Many entertainment systems have parental controls to restrict mature content— smart TVs, streaming apps, and gaming consoles. But what about restricting screen time and content on all the devices in the home; how can a parent easily set up universal rule sets?
1. Turn off the WiFi
This first tip may sound obvious, but it's easily one of the quickest ways to get children and teens away from their screens. Simply disable WiFi access on their device(s).
Minim Founders Liz and Jeremy Hitchcock say turning off WiFi access helps them to limit the amount of time usage and binge streaming in their home:
"Trying to get your kids' attention with the internet working is nearly impossible," says Liz. "Turn off the internet and wait for them to come to you to ask why the internet is down."
Now, the way to go about doing this may be tricky if you have several different smart devices operating in the home. You'd either have to physically turn WiFi access off on each desired device, or turn off your router altogether, which means you'd be affected, too. With Minim, the act of turning the WiFi off is done by pressing the internet pause button in the Minim mobile app. This action can be done for a single device, a profile of devices, or the entire network.
2. Set schedules and time limits
Setting schedules and time limits for internet use is another great way to manage the amount of screen time for kids. Minim Engineer Peter Fry recalled how he and his wife used to physically take their children's devices away to limit their screen time, but it eventually led to lawyering over what constitutes as a device being used.
"The kids just accept that time limits have been reached, and Rebecca and I feel like the whole 'screen time' disputes have mostly evaporated."
Examples of internet schedules could be for bedtime or homework time. For instance, in the Minim mobile app, parents can create a schedule wherein from 3-6pm and 9pm-6am every weekday, the internet is disabled for their children's devices. Additionally, parents can also set time limits as Peter describes above. In this method, each child is given X amount of time per day to use the internet; once the child hits that limit, they are unable to access the internet until the following day.

3. Restrict certain types of content
Managing screen time may be one hurdle to get over, but using parental controls to manage what children do with their screen time is becoming equally as, if not more, important. As Minim Director of Customer Success George Zarebski puts it:
"Using parental controls features to restrict content assures me that my kids are not going to accidentally (or intentionally) come across mature or malicious content. Without these features, it would be impossible to allow all four of our children to access their connected devices and still be able to monitor each for safety. Instead, using these tools helps me manage their connected experience while allowing them to stay connected freely and safely."
Content filtering is available on many systems (e.g. the Disney Circle), and also in the Minim app.
4. Stay in-the-know
This fourth way to use parental controls in the smart home is to stay in-the-know with what your children and teens are up to, a tip of advice from Minim CTO Alec Rooney:
"I use parental controls to have visibility into what my kids are doing. This lets me have digital parenting conversations with them when I see they are spending too much time watching Netflix versus reading, playing outside, etc. Sometimes they don't even realize how much time they have spent online."
Some apps may let you see a summary of how much time was spent online, and services like Netflix will tell you which profiles are in use. In the Minim app, parents can see for each child profile, exactly which devices are online, how long they've been in use for the day, and even how much bandwidth they've consumed.
5. Create boundaries
This last digital parenting tip was provided by Chelsea Brown, Founder and CEO of Digital Mom Talk, a platform that educates and consults family homes and businesses on cybersecurity best practices. Chelsea describes how, in addition to using certain device parental controls features, their family has also introduced the idea of physical boundaries:
"We also use the device's built-in controls to help inhibit use like disabling autoplay, set timers, lock our devices away when we're not using them, have established zones where technology is and isn't allowed and are intentional with our time."
This idea of creating a technology-free space in the home is a great idea for parents to consider. Whether it be a space for the family to gather together once in a while, or where tasks like homework or chores can be done without distraction, a technology-free space helps family members practice the art of concentration, connection, and being present.
Like this blog?
Subscribe to our newsletter.