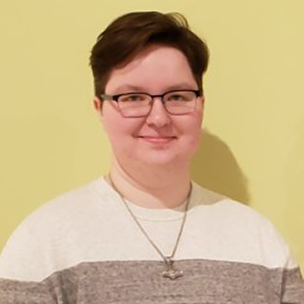 Motorola MH7022 mesh WiFi system unboxing + comparison
We at Minim have been pretty excited about the latest Minim-powered connectivity solution: The Motorola MH7022 is a whole home WiFi system that utilizes AC2200 Tri-Band Mesh WiFi. The tri-band router design offers two separate 5 GHz networks on top of a 2.4 GHz network, and it automatically sorts home devices into the three different networks for more speed to share among devices.
In this blog, we'll be showcasing the MH7022 model's strengths, weaknesses, and specs. At the end, we'll see how it stacks up against competitor models to see why the Motorola MH7022 might be right for your needs.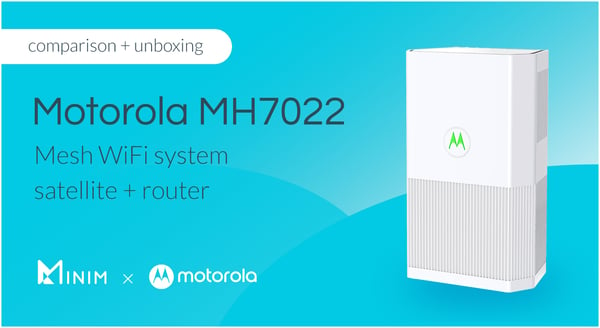 What's in the box?
First, it's important to note that Minim business customers can buy the Motorola® MH7022 system from Minim with the Minim app inside. The app and unboxing experience differs a bit there. For the purposes of this blog, we will unbox the Motorola® MH7022 available for purchase on Motorola.com, Amazon, and in other stores—in this box, Minim powers the MotoManage™ App.
When purchasing the MH7022, the box comes with one router and one satellite, offering up to 6,000 square ft of network coverage, more than enough range for a larger household. It also comes with the Motorola MotoManage™ App, and users both new and experienced with smart-home technology will find this model easy to configure and use with less than 10 minutes of setup time out of the box.
Here are a few photos of what you can expect to get with a purchase of the MH7022 system.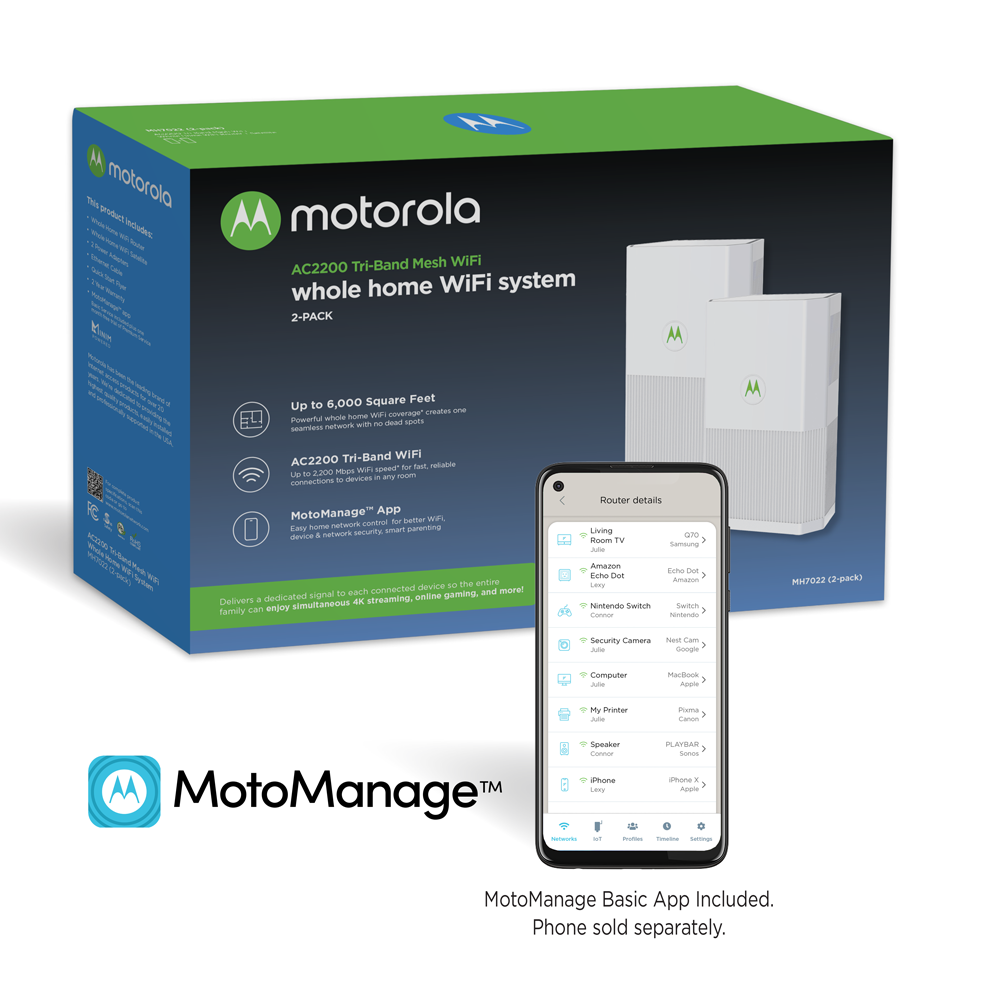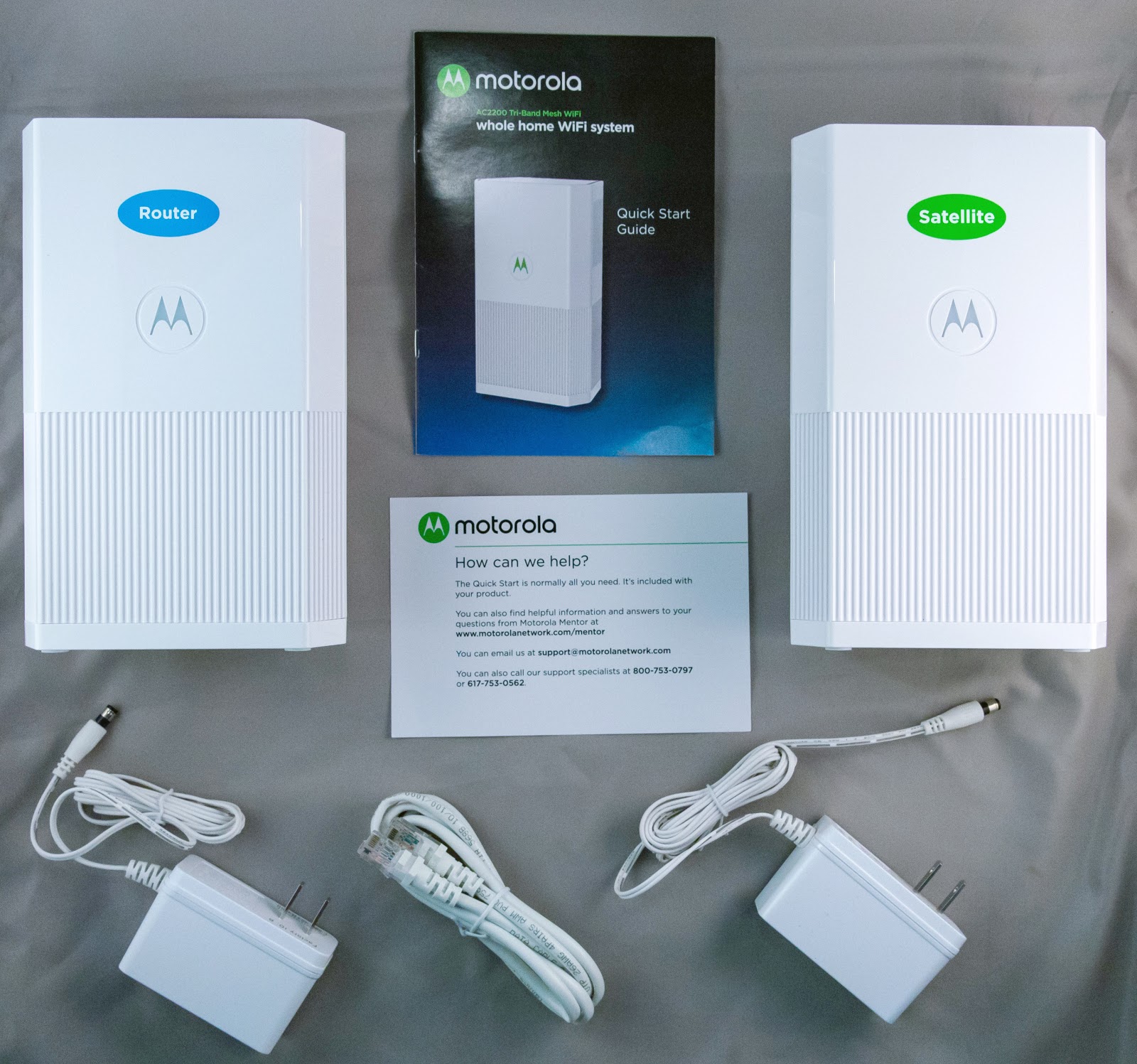 The MH7022 model comes in one-pack, two-pack, and three-pack options. Minim offers the two-pack option to our subscribers.
The MH7022 (2-pack) box includes:
one whole-home WiFi router
one whole-home WiFi satellite
two power adapters
Ethernet cable
quick-start flyer
The difference between the packs' contents are:
MH7021 (1-pack) – Satellite
MH7022 (2-pack) – Router and Satellite
MH7023 (3-pack) – Router and two Satellites
MH7022 specs
The MH7022 Tri-Band Mesh WiFi system offers several key perks to the smart-home user.
Kiss lag goodbye with the MH7022. Motorola's Intelligent Tri-Band technology gives a dynamic WiFi backhaul of up to 2,200 Mbps for fast, stable connections throughout the home—and with the addition of satellites, dead zones are no longer a problem either.
The MH7022 creates one seamless network with up to 6,000 ft2 of coverage. Plus, it boasts an expandable mesh WiFi system with smart roaming.
Homes that crave bandwidth can rest easy while employing the skills of the MH7022. It utilizes MU-MIMO technology to deliver high-speed WiFi to multiple devices for 4K streaming, online gaming, and much more, all simultaneously.
Here's a list of some of the tech specs:
WiFi technology
AC2200 Tri-Band Mesh WiFi
2x2 2.4GHz, 2x2 5GHz, 2x2 5GHz
IEEE 802.11 a/b/g/n/ac Wave 2
2.4GHz 400 Mbps
5GHz 866 Mbps
Dedicated 5GHz 866 Mbps backhaul
WiFi diagnostics
wireless scanning
WiFi radio status
network maps
data track usage
security alerts
Client and network management
band steering
seamless AP roaming
wireless Air Time Fairness (ATF)
intelligent backhaul
MU-MIMO
optimized WiFi channel selection
WPA/WPA2 wireless security
Physical
GigE ethernet ports, with 10/100/1000
auto-negotiate:
router: 1 WAN and 1 LAN
satellite: 2 LAN
buttons: WPS, reset
led: power, mesh pairing, WPS, WiFi signal strength
power adapter: wall-mount 12VDC/2A output, 100-240VAC 50/60Hz input
dimensions (each): 8" h x 5.125" w x 3.375" d
Download the Motorola MH7022 datasheet here.
MH7022 strengths
The MH7022 has a price point that rivals other routers with the same power and capabilities. At the time of writing, the MH7022 runs a sweet $189.00 on the Motorola store. Similar models on the market often run at a common $200-$300, so it puts the MH7022 on the lower end of the purchasing spectrum.
Minim customers subscribed through their ISP and Minim business customers for individual homes and users can purchase a Minim-powered Motorola MH7022 at only $178.00 with the Zoom plan.
Work-From-Home households can meet their perfect match with the MH7022 model. It boasts high speeds (versus Google Nest, for example), natively supports network-level threat protections (versus D-Link, McAfee, and eero), IoT fingerprinting and security, cloud WiFi management, and advanced parental controls. This is great for families with kids who like to stream or game online, and its tri-band technology allows for simultaneous use without any lag or dropped signals. The MH7022 also comes with a two-year warranty activated on purchase, so any blips or boops down the road that might happen are totally covered.
The Motorola MotoManage™ App
With the Motorola MotoManage™ App, adding mesh satellites to your whole-home network is a breeze. The MH7022 benefits from mobile app management, which offers onboarding help as well as network scanning and troubleshooting throughout the router's lifetime.
"Setting up was super easy," says Minim co-founder Nicole Hayward. "The mobile app shows you where to plug things in and how to place the satellite. Plus, the lights on the Motorola devices indicate when they are paired up. I now have the router in my master bedroom and satellite in a third-floor office, and the WiFi is working great."
The MotoManage™ App allows users to control aspects of their home network and offers proactive security, network monitoring, parental controls, internet speed testing, schedule tracking, network scores, and much more. You can view everything the MotoManage™ App has to offer on the Motorola store.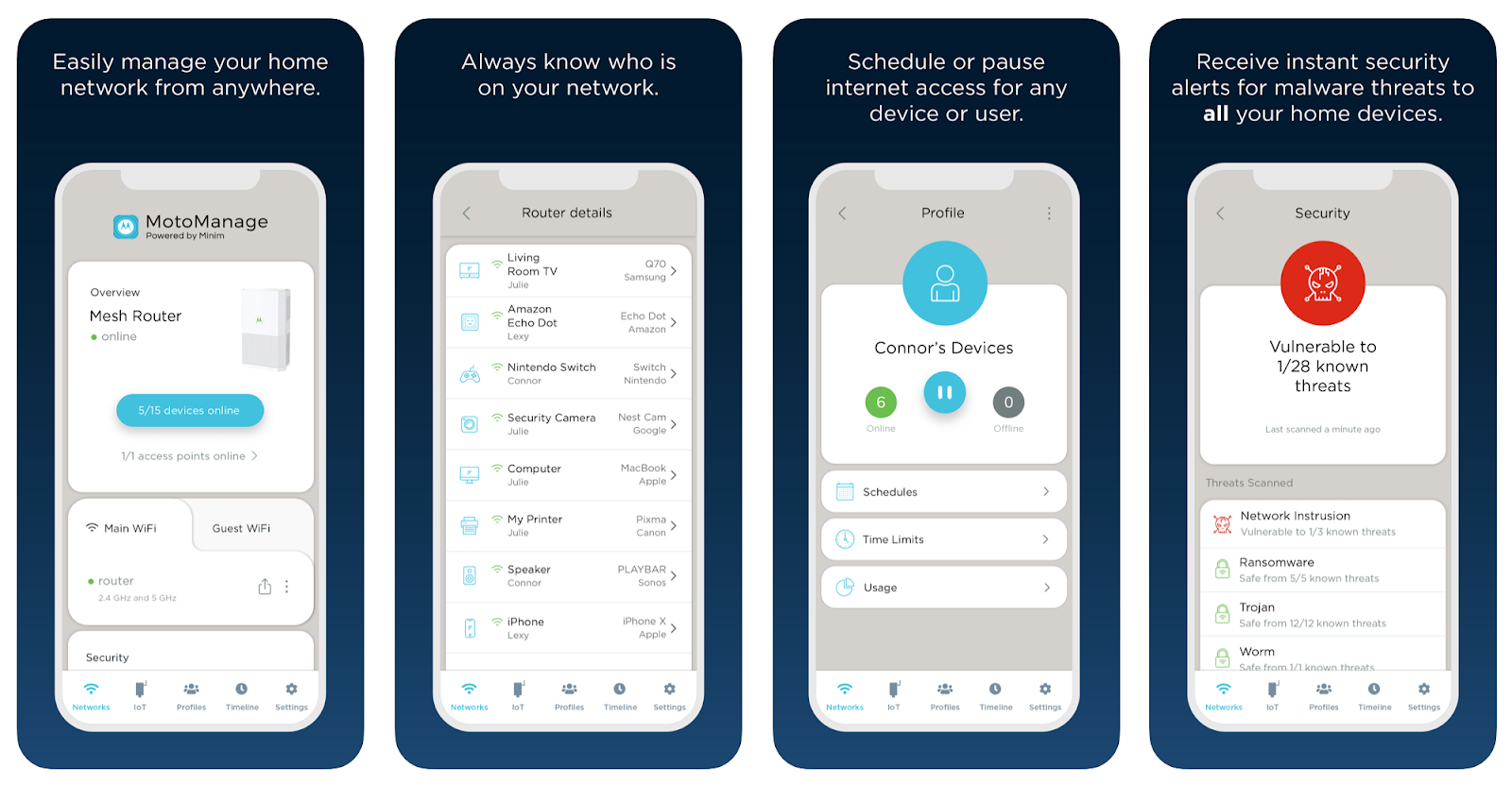 Screenshot taken from the Apple App Store on September 3, 2020.
MH7022 weaknesses
While this is an extremely performant system, it does not support WiFi 6 (not that a system at this price point would, but we had to point it out in case readers are keen on the newest standard for WiFi communications). We're not too worried here because, although WiFi 6 improves on the old standard, many WiFi 6-enabled devices have yet to roll out onto the market. Down the line when they do, the lack of support on the MH7022 model does not mean that WiFi 6-enabled devices will not be able to connect—it just means they won't be able to utilize WiFi 6 improvements.
Secondly, let's talk about the design. The MH7022 doesn't exactly offer the slim, smooth silhouette of some of its competitors. The MH7022 tends to be a router that's noticeable in the home, however, its stature plays into part of its powerhouse performance and price. It's easy to imagine that for some buyers these factors will need to be weighed into the purchase.
Mesh WiFi system comparison: Motorola, D-Link, Plume, TP-Link, Nest, Netgear, eero
How does the MH7022 stack up against its competitors? Here's a quick run-down on the major differences. Please note: all calculations are made based on numbers available at the time of writing.
MH7022 vs D-Link Covr-2202
Price difference in favor of MH7022
Coverage difference of 1,000 ft2 (in favor of MH7022)
3-Year Limited Warranty
User app: D-Link mobile app or web-based interface
Security: WPA/WPA2 wireless security, parental controls
Smart Home Connectivity: Google Assistant and Amazon Alexa
MH7022 vs Plume SuperPod
Price difference in favor of MH7022
Coverage difference of 1,200 ft2 (in favor of MH7022)
Plume uses AC3000 Tri-band mesh
User app: Plume app
5-year hardware warranty
Smart Home Connectivity: Bluetooth Low Energy
MH7022 vs TP-Link Deco M9 Plus
Price difference in favor of Deco M9
Coverage difference of 500 ft2 (in favor of Deco M9)
User app: Deco app
Security: WPA-PSK/WPA2-PSK, Port Forwarding, VLAN, IPv4 and IPv6, Parental Controls, Built-In Antivirus Trial
Smart Home Connectivity: Bluetooth 4.2, ZigBee HA1.2
MH7022 vs Google Nest WiFi
Price difference in favor of MH7022
Coverage difference of 1,600 ft2 (in favor of MH7022)
Limited 1-year warranty and 24/7 tech support
User app: Google Home app
Security: WPA3 encryption, automatic security updates, Trusted Platform Module
Smart Home Connectivity: Google Assistant, Bluetooth Low Energy
MH7022 vs Netgear Orbi RBK50
Price difference in favor of MH7022
Coverage difference of 1,000 ft2 (in favor of MH7022)
Orbi uses AC3000 Tri-band mesh
Limited 1-year Hardware Warranty and 24/7 basic technical support
User app: Orbi app
Security: NETGEAR Armor, WPA2, Guest WiFi Secure Access, Parental Controls
Smart Home Connectivity: Amazon Alexa and Google Assistant
MH7022 vs eero Pro
Price difference in favor of MH7022
No Coverage difference
1 year limited warranty
User app: eero app
Security: WPA2 encryption, Family Profiles, DHCP, IPV6, NAT, VPN Passthrough, UPnP, Static IP, and Port Forwarding
Smart Home Connectivity: Thread 1.1 Border Router, Bluetooth LE 4.2
The MH7022 beats out five out of six top competitors in both range and price. Here's a visual that breaks down the comparisons further: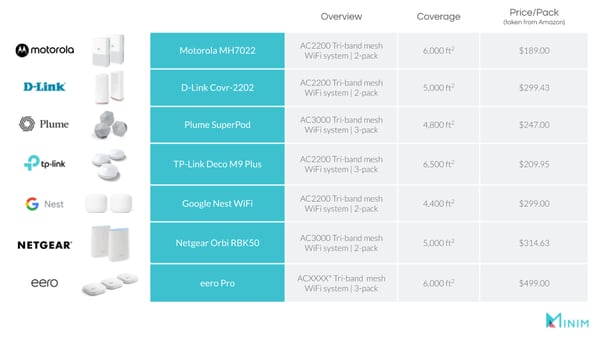 All imagery and data have been gathered by internet research on September 3, 2020. Click the image to view a larger version in your browser.
In conclusion
Overall, the Motorola MH7022 is a great model for smart home enthusiasts, beginners and experienced alike. With a low price point and an interactive app that makes managing the home network so easy, the MH7022 can be the perfect addition for your smart home needs.
Like this blog?
Subscribe to our newsletter.