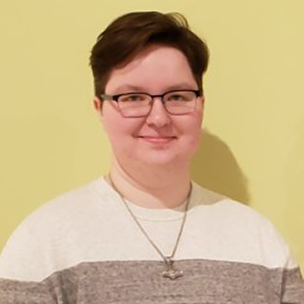 Minim Wins Best In-Home WiFi Network 2020 Award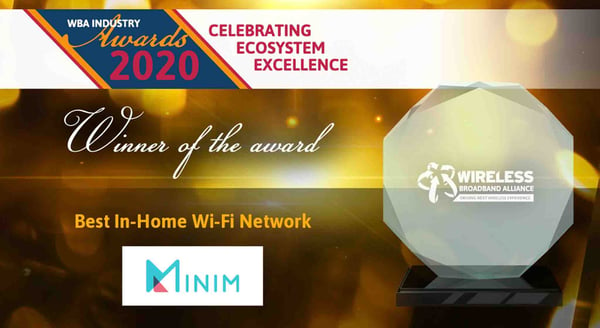 We are excited to announce today that Minim has been chosen as the recipient of the "Best In-Home WiFi Network 2020" award in the annual Wireless Broadband Alliance Industry Awards! The WBA Industry Awards recognizes the most significant innovations and achievements from across the WiFi ecosystem.
In March 2020, over 16 million workers in the U.S. began working remotely—and that was only the beginning. By the end of 2021, it's projected that one-third of workers globally will work from home multiple days per week.
Now, IT organizations are feeling the pressure to adapt. The traditional office has become the employee's home, but IT support has not shifted in the same manner. Remote employees are left to wrestle with unreliable WiFi connectivity, network contention with their family's devices, and zero cybersecurity threat protection. For the employer, this can lead to lower productivity, infiltrated systems, and zero visibility into work networks, which are now hosted in employee homes.
Enter Minim, the Bring Your Own Network™ platform that transforms at-home work environments into secure, managed corporate networks in seconds. Businesses can protect and support their distributed teams while providing a new-age employee perk: powerful, safe, and private home WiFi. The Minim solution consists of three parts:
Minim-Powered WiFi System provides two meshed Motorola® devices with Zero Touch Provisioning to create the Minim network.
Minim® Edge Extend web application grants IT personnel and MSPs visibility into their Minim network with insights including employee network usage, health scores, mesh system settings management, and vulnerability analysis from an AI-driven IoT firewall.
Minim® Remote Assistant mobile app enables employees to self-diagnose WiFi performance issues, such as low signal strength or speeds, as well as set home policies for security filters, ad blocking, safe search, device pausing, and more.
"I would like to congratulate Minim on winning the WBA's Best In-Home WiFi Network Award 2020 with the outstanding contributions made to the In-Home WiFi industry," said Tiago Rodrigues, CEO of the Wireless Broadband Alliance.
"Minim has worked together with both service providers and enterprises to better support workforces as they adapt to the new responsibility of deploying enterprise-grade connectivity in the home. Their innovative approach to protecting distributed businesses from security threats to remote employee homes, which has exploded on a global scale due to the pandemic period with COVID-19."
The mission of the WBA Awards is to recognize the most significant innovations and achievements across the WiFi ecosystem, and are judged by an independent panel of industry experts, analysts, and journalists. The awards categories for 2020 included: Best Wi-Fi Network Operator, Best Wi-Fi Network Technology, Best In-Home Wi-Fi Network, Best Enterprise Wi-Fi Network, Best Wi-Fi for Social Impact, and Best Wi-Fi Innovation.
"We are proud to deliver Minim's solution because of their focus on making home WiFi safe," said Nick Sabean, CMO of WhyFly.
"As a service provider, we take our customers' security and privacy seriously. The Minim app makes it easy for subscribers to review network threats and take action by blocking malicious sites, preventing unknown devices from joining the network, and more. Plus, with Minim, we've been able to reduce truck rolls and increase customer satisfaction with an all-around better WiFi and support experience."
In the face of the pandemic, Minim opened access to its platform to businesses and has been hard at work further innovating with real-world feedback. Minim's Bring Your Own Network™ solution is an addition to Minim's flagship cloud-managed WiFi product for broadband service providers, available for white labeling and deep customization via Minim APIs.
"Minim is a well-timed innovation that allows home WiFi to be treated as part of an office solution," said the judges of the WBA Awards. "The ability to turn a home network into a secured network to satisfy the needs of work-from-home conditions within minutes is an undeniable advantage, especially in such uncertain times with COVID-19."
About the Wireless Broadband Alliance
Founded in 2003, the mission of the Wireless Broadband Alliance (WBA) is to resolve business issues and enable collaborative opportunities for service providers, enterprises, and cities, enabling them to enhance the customer experience on Wi-Fi and significant adjacent technologies. The organization has a focus on four major programs: Carrier Wi-Fi Services, Next Generation Wireless & 5G, Internet of Things (IoT), and Connected Cities.