Minim to speak at WiFi NOW USA 2019
Next week, Minim will be sponsoring and speaking at WiFi NOW USA 2019 in Washington, DC, an event that's designed to connect leaders in the WiFi industry. Check out the full conference agenda, which includes Minim Co-Founder and Chief Strategy Officer David Aronoff's talk on how AI-driven WiFi Management and IoT Security will be vital pieces in the battle for the home network edge.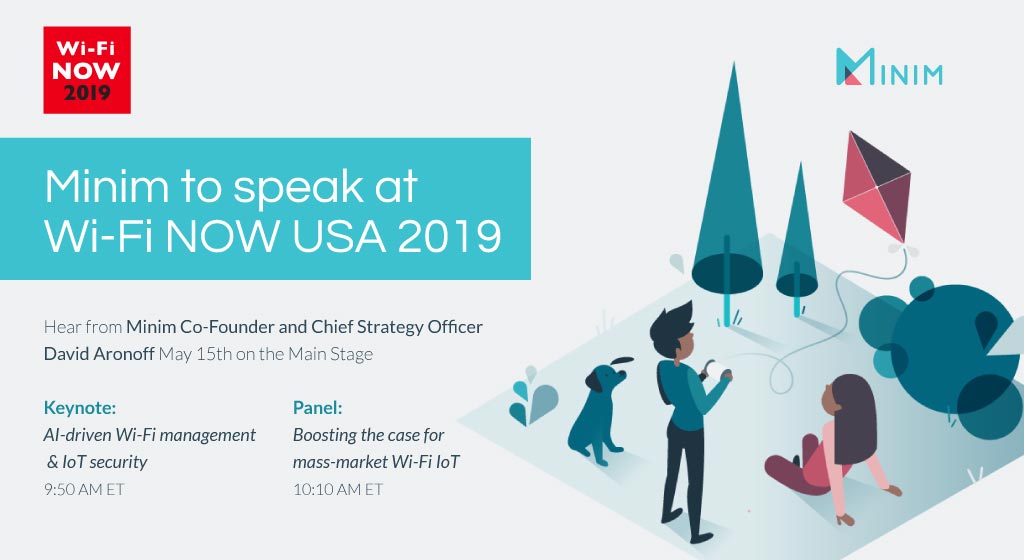 Taking place on May 14-16, this year's WiFi NOW event is celebrating 20 years of WiFi and featuring panel discussions, keynote speakers, exhibitors, and networking breakout sessions for the crowd to discuss all things WiFi. Here are a few of the show topics:
The rise of City WiFi networks, aka the next megatrend
WiFi, mobile, and fixed wireless— disruption or convergence?
WiFi business models & monetization (plus, a look at WiFi First MVNOs)
Standards and services for boosting WiFi performance
Delivering the next-generation connected consumer experience
Maintaining quality WiFi delivery in high-density areas
The WiFi security challenge of today's connected world
David will be leading a keynote session and also joining a panel discussion to discuss some of these topics— more details are provided below!
Keynote: AI-driven Wi-Fi management & IoT security
May 15th (Day 2) at 9:50 AM ET on the Main Stage
As smart home adoption continues to pickup, how are broadband service providers responding to the growing IoT attack surface— and how will this influence the battle for the home edge? David will discuss how consumers are currently left to fend for themselves, seeking third-party security and edge optimization solutions. Learn about big industry players (even the "FANGs") who are positioning with consumer-centric WiFi management and security solutions, and what this ultimately implies for today's broadband service providers.
Panel: Boosting the case for mass-market Wi-Fi IoT
May 15th (Day 2) at 10:10 AM ET on the Main Stage
Following the keynote session, David will be joining a Q&A panel with Aptilo Networks Co-Founder and CTO Jonas Björklund to discuss the case for managed WiFi in homes, including security and growing device complexity. Learn about the latest technologies, business models, and infrastructure needed to support WiFi and IoT in homes.
See you at WiFi NOW USA 2019?
We hope to see you there! If you're attending, tweet Minim at @MinimSecure or David at @dba with #WiFiNOW to let us know, or...