Minim talks Going Remote 101 with NH Tech Alliance [webinar]
Remote work is certainly on the minds of many. Businesses all over are having to make the transition from working out of the office to the kitchen table. For some, it's understandably coming as a shock. This is why we were honored to join the NH Tech Alliance yesterday as a guest speaker in their webinar Going Remote 101 to discuss best practices for making this transition.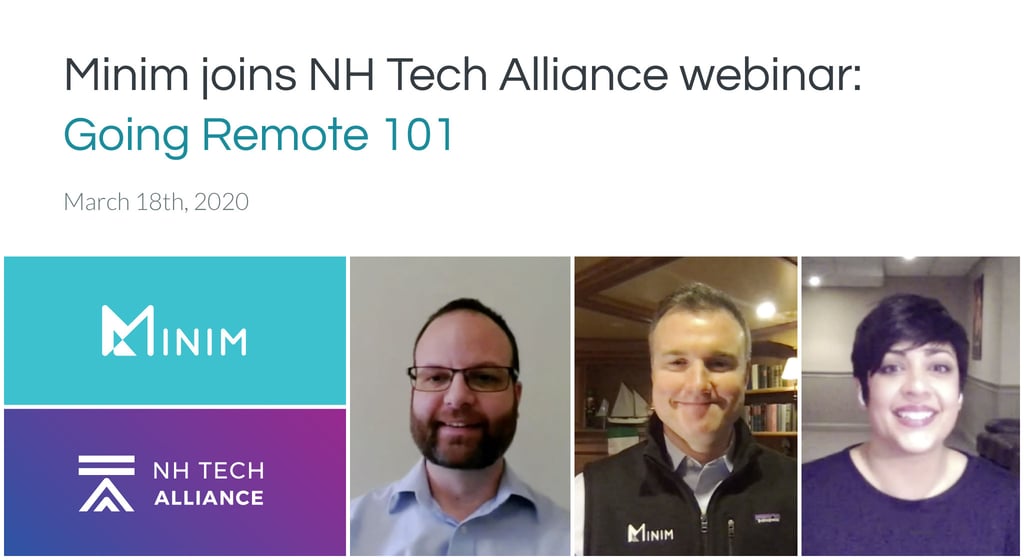 The webinar was hosted by Joshua Cyr, Senior Director of Startup Initiatives at NH Tech Alliance, and featured Minim CEO Gray Chynoweth and Senior Certified HR Professional/Organizational Strategist Pubali Chakravorty-Campbell.
In the webinar, the speakers discuss how businesses of all shapes and sizes can successfully move to a remote working model. Specifically:
What tooling do you need?
How can you maintain your corporate culture?
What are best practices for holding remote meetings?
To get these insights, tune in to the video and review our tips recap below.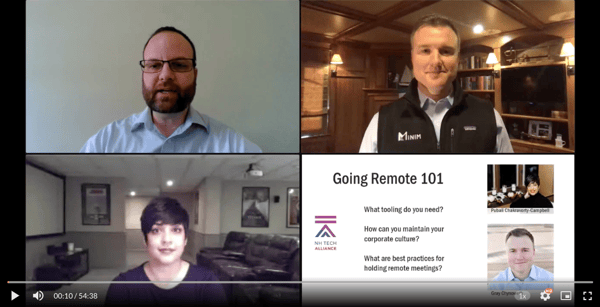 How to enable productive remote working
Start by providing your team with the right tools, as Gray explains:
"Thinking about remote work tools, I think for me this is really a blend of the online and offline tools that you have at your disposal. So, the very first one is the physical tools— your home workplace setup. What is your chair like? What is your desk like? What are the ergonomics of those things? What is the space that you're in?

Those are really important basic steps that everyone who is considering working remote and everyone that is managing a team that is thinking about working in a distributed fashion should really think about."
Gray continues on to discuss more remote work tools for real-time collaboration, asynchronous collaboration, and the home network setup itself.
How to maintain productive remote working
Starting with the right remote work toolset is essential, but now that you have the right tools in place, how do you ensure your remote work model can be maintained? Pubali shares some tips below:
"All of a sudden, your lives are now different. You have time that you didn't have before, the day is going to feel potentially much longer... You don't have that watercooler time, you don't have that commute time, you don't have all those moments during the workday when you're hanging out, you're socializing, you're interacting with other people.

So now more than ever, it's really important that we check in on one another... Make sure that you aren't working too much— that you're not starting your day at 6 o'clock in the morning because you can; that you're not ending your day at 11 o'clock at night because you can. Think about maintaining as much of a work-life balance while at home as possible."
Watch the full webinar to learn more remote work best practices for team communication, workplace culture, employee productivity, and support.