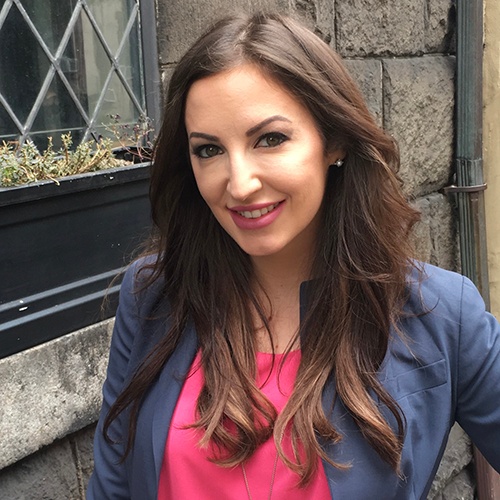 Minim and Irdeto join forces to launch Trusted Home at IBC2019
We have some big news. Today at IBC2019 in Amsterdam, Irdeto is debuting Trusted Home, by Irdeto and Minim— the solution for Communication Service Providers (CSPs) to offer smart home security and control to their customers.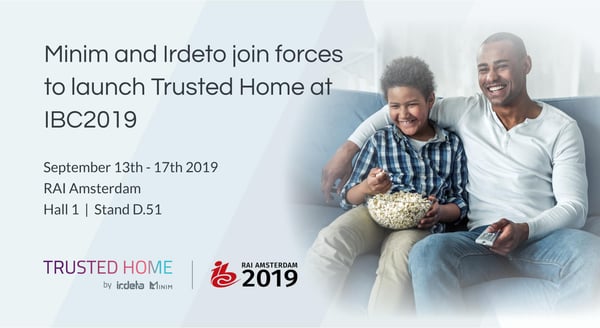 Irdeto is a world leader in digital platform security that protects devices and applications against tampering, hacking, and IP theft. Now celebrating their 50 year anniversary, the company has secured more than 400 operators across 75 countries around the world in industries such as transport, health, and manufacturing.
Over the next 5 days at IBC2019, Irdeto is exhibiting the Trusted Home solution in booth 1.D51. IBC2019, known as the world's most influential media, entertainment, and technology show, is slated to bring in more than 55,000 attendees, 400 speakers, and 1,700 exhibitors from over 160 countries. If you're joining this massive crowd, come visit us at the Irdeto booth!
Why Trusted Home?
Trusted Home was developed to address the increasing number of security vulnerabilities found in the smart home. As the consumer IoT installed base is projected to reach 12.9B by 2020, the smart home's attack surface is ever-growing. IoT devices that lack routine software updates, antivirus software, and ongoing manufacturer support are being brought into the home. According to Symantec, IoT devices, mainly routers and connected cameras, experience an average of 5,200 attacks per month. Through AI-driven anomaly detection and simple, usable apps, Trusted Home helps both the service provider and consumer protect home networks from these threats.
"We are excited to work with Irdeto as a technology partner to deliver Trusted Home."
Minim VP of Strategic Partnerships Bryan Ollila describes the offering:
"We are excited to work with Irdeto as a technology partner to deliver Trusted Home. Trusted Home enables CSPs and service providers alike to provide value added services to subscribers that fully secure and optimize the smart home. At the same time, both service provider and subscriber are given the same 360 view of the home network with AI-driven network recommendations, device insights, and security alerts. The result is that subscribers get peace of mind knowing their home network is secure and service providers get the visibility they need to provide a better connected experience that, in turn, creates new revenue streams, support cost savings, and happier customers."
Trusted Home comes at an exciting time for the service provider industry. Consumers are relying on IoT in the home and are willing to pay more to know that their data and privacy are protected. This has created opportunity for service providers to step in and delight customers while gaining a competitive edge in the industry.
Visit Irdeto booth 1.D51 at IBC2019
Stop by the Irdeto booth 1.D51 to learn more about Trusted Home, or contact the Irdeto team today!