ISPs, try virtual truck rolls in response to COVID-19
As the Coronavirus pandemic continues to affect how individuals live, work, and interact with one another, having a stable and high-speed internet connection at home is no longer a "nice to have." It's a necessity.
But when a broadband subscriber hits a WiFi snag, wants to change providers, or wants to upgrade a plan, what is the ISP to to do? Many ISPs and their subscribers are not comfortable with the technicians entering the customer's home at this time. We'd like to introduce the virtual truck roll.
As subscribers are working from home alongside their families, they're consequently relying on their internet connection. According to recent findings:
76% of U.S. adults have used email or messaging services to communicate with others; 70% have searched online for information about the Coronavirus; 37% have used social media to share or post information about the coronavirus; 25% have used video calling or online conferencing to attend a work meeting; and 16% have used the internet to connect with doctors and other medical professionals. [Pew Research]
Of these surveyed U.S. adults, 77% view any disruption to their internet service—whether it be slow speeds, poor WiFi signal strength, or device connectivity issues— as big problems. At the same time, many subscribers are worried about field techs entering the home to help in the event a disruption is experienced.
While we've heard accounts of both service providers suspending in-home tech visits and subscribers agreeing to delayed support during this time, many are still having to schedule onsite visits as the home network is being relied upon.
Our internet has been very spotty lately, dropping in and out and just seeming extremely slow all around. My wife and I both checked the router/modem combo to make sure it wasn't that, we refreshed everything, and when that didn't work, we called the support line for our ISP.

When none of the usual steps worked, they gave us the option to wait on a technician until after the lockdown is lifted and see if the problem resolved itself. But both my wife and I are working from home, so we couldn't afford to wait.

Before the tech came, we sprayed disinfectant on all the door handles, cleaned the router with it, and also got anything we could possibly think of them coming into contact with. We washed our hands right before they arrived and wore masks and gloves. I was relieved to see the technician was doing the same. [Dan Bailey, President, WikiLawn]
Though extensive safety measures, as described above, can be taken in the event a truck roll is deployed, health risks for both the subscriber and field technician remain present.
The virtual truck roll
Providing 100% remote support requires a few key elements:
Ultra-high degree of visibility into the home network for efficient and remote troubleshooting. It must include identification and performance indicators for all devices on the home network.
Simple guided in-home setup for new deployments so subscribers can plug-and-play their new router(s) for service and personalize their network settings.
Proactive support for customers who are having issues on the ISP's network. By not waiting for customers to call with problems, service providers can express a personal touch and build trust.
Self help tools for the subscriber to optimize their network performance, e.g. pausing a child device during work hours, so the issues don't occur in the first place.
How Minim can help
Minim is a WiFi management and security platform that grants service providers unprecedented visibility into subscriber home networks. The platform offers deep device fingerprinting and management tools for faster resolutions. And, it automates optimal network settings to deliver better WiFi experiences. In essence, ISPs leveraging Minim can provide 100% remote support to subscribers.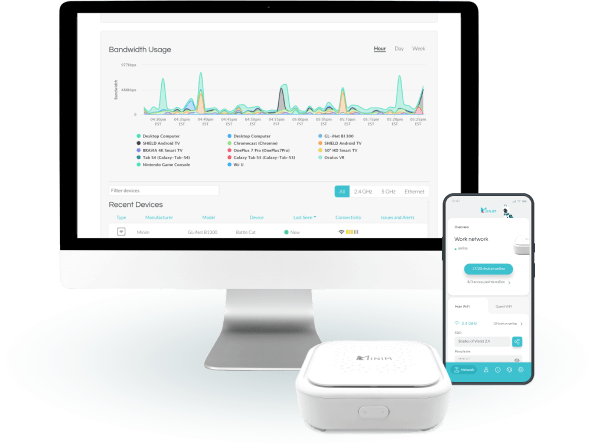 Snapshot of the Minim solution
But what about deployment and upgrades? To deploy, Minim-enabled routers can be shipped to subscribers for guided in-app setup. And Minim can also be deployed on some routers already in the field.
Here's a quick overview of how the Minim platform works. If you're interested in learning more or are ready to get started with a risk-free, 30-day Minim trial, let us know here.