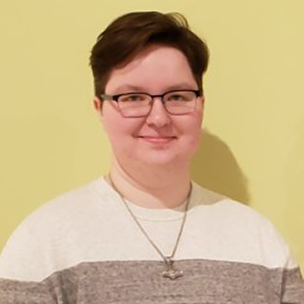 Best internet providers in Wilmington, DE (for 2021)
Did you know that Wilmington is the 13th most connected city in the state of Delaware? Residents in Wilmington have plenty of great options when it comes to the best internet service for their needs. Here, we've compiled a list of the top ISPs that service the area so you can be sure you're making the best choice for your home.
What internet speeds do I need?
Before choosing an internet plan for your home, it's important to know what speeds your household actually needs. Generally, the average household with regular internet usage will need anywhere between 25 Mbps to 50 Mbps of download speed. Those working from home or sharing their home network with children or roommates may need faster speeds, upwards of 100+ Mbps.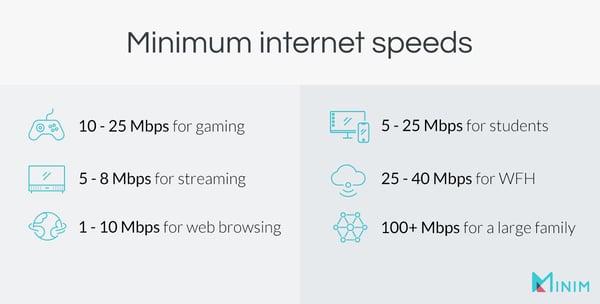 Breakdown of internet coverage types in Wilmington
Wilmington is mainly covered by DSL service, followed by cable and then fiber internet. DSL, or Digital Subscriber Line, allows for internet connections tapped into a phone line inside of a subscriber's home.
Cable internet service utilizes the copper coaxial cables for television to provide internet to the home; unfortunately, cable internet speeds are dependent on the number of people in an area that use that same internet delivery system.
Fiber optic internet service operates over tiny flexible strands of glass that transmit data as light, allowing high-speed data transfer over even long distances.
Here is a breakdown of the current usage of each category, with information taken from InternetAdvisor: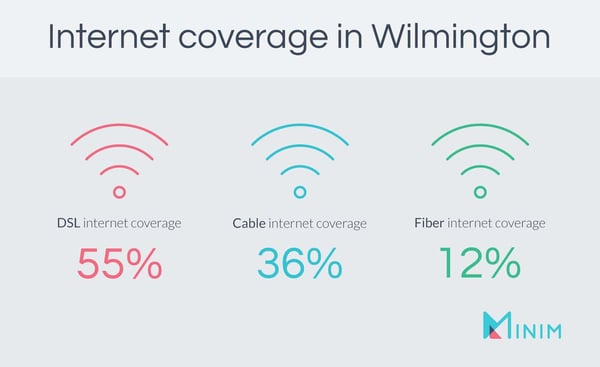 Best internet service providers in Wilmington
There are a handful of service providers in Wilmington, but how do you know which to choose from? Not to worry—we've done the hard work for you. Here's a breakdown of the top ISPs in Wilmington: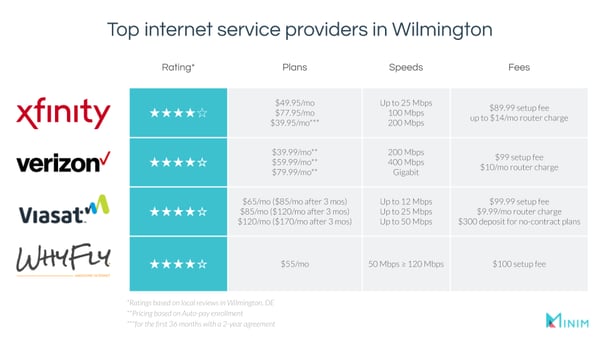 Outside of the three biggest internet service providers in Wilmington, consider looking to a smaller, locally-based ISP:
WhyFly [4.1 / 5 | 56 Google reviews]
WhyFly is a local internet service provider with its central location situated in Wilmington. With quality, flexible service plans that are budget-friendly and excellent customer service, why not select your local ISP?
The WhyFly app allows for subscribers to control their whole home network at the touch of a finger, and a powerful router combined with fast internet service makes for blazing internet speeds delivered in a safe, secure manner. Home users can set up parental controls, user profiles, time limits, and more with the WhyFly app, taking the subscriber experience to another level that the big brands just can't deliver.
"We live here in the community," says Jim Shanahan, VP of Enterprise Business Development of WhyFly in an interview on the Zanthia Oliver Show. "Our customers are our neighbors. And if you have a problem, we'll go out and fix it right away."
What are customers saying?
We looked into what current WhyFly customers had to say about their internet service provider, and the reviews are overwhelmingly positive. Here are just a few reviews left on Google:
"At first I was a little skeptical to use WhyFly as my internet provider over the other large nation-wide options. But 1.5 years later, I'm still very content with my decision. WhyFly has been consistent, responsive, and affordable. A great local business to support!" [Kieran Carlisle, 5/5]
"BEST ISP I EVER HAD. Install was seamless, service requests were answered instantly and workers went above and beyond to get my internet up when I had my one and only problem (and it was with the building, not them). They treated me like a human being at every interaction, and even let me keep the router. Thank you WhyFly!" [Dylan Brown, 5/5]
"Brandon Chambers took the time to drive to my apartment to deliver a cable to get my internet working at 8 pm...I mean who does that?!?! Thank you Brandon for your effort!" [Babak Salahbin, 5/5]
Frequently searched questions
What is the average internet speed in Wilmington, DE?
The average speed for internet in Wilmington, DE is 130.35 Mbps.
Is fiber internet available in Wilmington, DE?
Yes! Fiber internet service is available, and currently 11.75% of Wilmington, DE residents utilize it to get their internet.
What is the availability of fiber internet in Wilmington, DE?
About 57% of the area in Wilmington, DE has access to fiber internet.
How many internet service providers have coverage areas in Wilmington, DE?
Currently, there are four main service providers in the area. However, there are also local ISPs, such as WhyFly, that are great options and offer competitive pricing and speeds.
How many people in Wilmington, DE don't have access to broadband internet?
1.24% of residents in the area currently do not have broadband internet.*
*According to the FCC definition of broadband internet.
Minim is a residential managed WiFi and IoT security company that works with ISPs to both improve WiFi and make it as safe as drinking water. Minim is part of WISPA, the Fiber Broadband Association, and the Microsoft Airband Initiative, and supports local businesses and closing the digital divide.
This blog has been written by our researchers based on online research as of Oct. 16.