Alternative to Meraki for SMB and residential [comparison]
As an industry-leading cloud-managed IT solution, Cisco Meraki provides several products for enterprise network management: WLAN, next gen firewall, unified network insights, and more. But, it's certainly not a one-size-fits-all solution set.
For many businesses, the Cisco Meraki infrastructure, provider lock-in, and expertise needed to accomplish the business' goals inspire them to explore their options. If you find yourself in this boat, here's an informative overview of Cisco Meraki alternatives, including a comparison of Minim and Meraki for small offices and remote environments.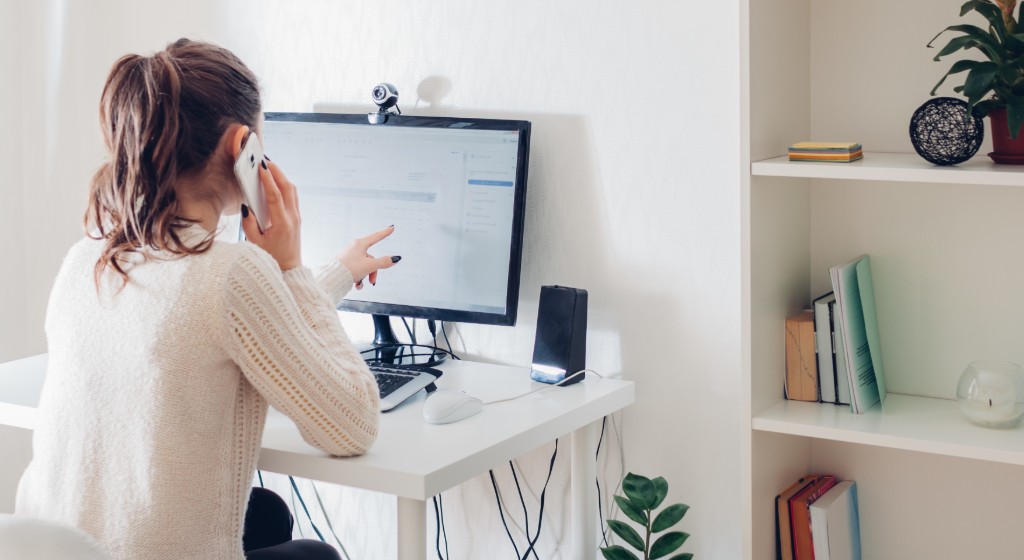 Cisco Meraki alternatives
As you may already know, there are many solutions available for businesses to consider for network management and security. Some of the top Cisco Meraki competitors, particularly for WLAN/SD-WAN solutions, include:
These solutions have been named in the Gartner Magic Quadrant for the Wired and Wireless LAN Access Infrastructure Report, where notably the leaders were: Cisco, Aruba, and Extreme Networks. Per this report, "Wireless LAN (WLAN) infrastructure for most large enterprises (1,000-plus employees) is a 'must have" for employee and guest or contractor network connectivity, especially as an organization expands..." As such, it is safe to say the solutions are fit for large enterprise deployments. (If you're looking for SMB or remote working, jump down to the next section!)
In reviewing these solutions, we found each had unique hardware, licensing, and support schemas that add up to significant upfront CAPEX for on-site deployments. If your needs weigh heavily on these variables, the following guidelines from our research may be helpful for you: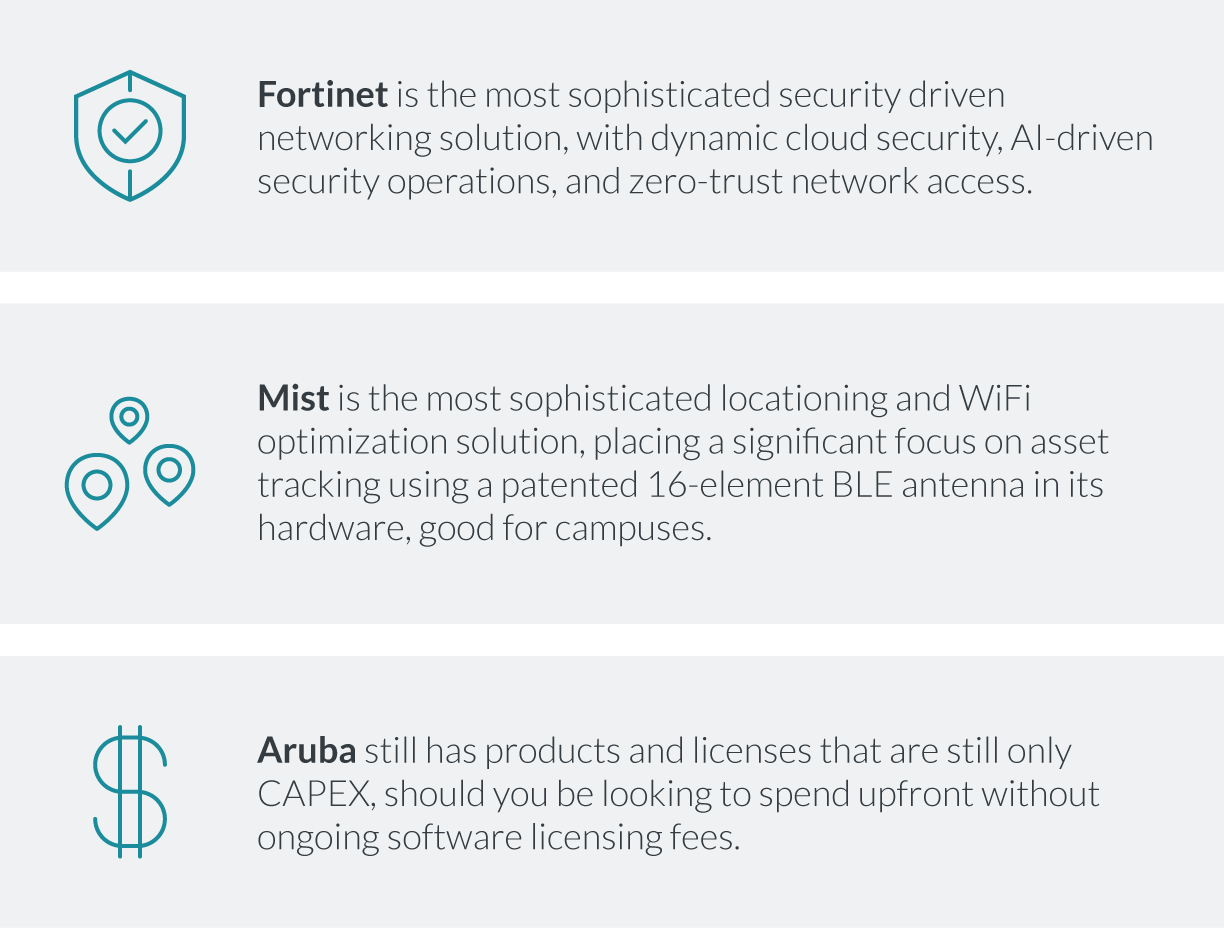 That's a quick overview of the top players in the enterprise WLAN landscape. But what if you're looking for SMB or remote working? To be frank, the above solutions are too big to be retrofit for smaller LAN management— and what's more, they have not been built for small business and remote working needs.
Managing SMB and remote worker networks: what's needed?
The needs of SMB and remote worker networks are much different than that of the larger enterprise network. These smaller environments require more self-guided, usable tools that anyone— not just Tier 3 IT personnel — can use.
At Minim, we like to refer to these needed solution components by using a more encompassing term: Bring Your Own Network™ or BYON™ for short.
Much like the way BYOD was coined in the late 2000s as employees began bringing their personal devices, mainly smartphones, into the workplace, BYON is what we are seeing today as the small office and remote worker network landscapes become more and more similar.
The average remote worker network today connects upwards of 12 personal devices and faces an evergrowing threatscape. Now, remote workers are introducing work devices to this scene, and in effect are exposing the office network to these other devices and network threats.
That's why businesses looking to support small office and remote worker networks must look for the following in a network management and security solution:
Auto assisted home WiFi - Built for Tier 1 IT support with quality APs tuned for the unique network environment and cloud-driven control.
Simple deployment - Offer zero touch provisioning with the ability to adapt to existing solutions (e.g., VPN, firewall, SD-WAN).
Integrated home policies - Meet the needs of each home's unique traffic patterns, connected devices. Can't be a one size fits all policy.
Next gen IoT firewall - Use AI to identify, protect, and monitor consumer IoT devices; it's necessary to keep up with the growing IoT threat landscape.
Auto assisted centralized management - Provide the right levels of network visibility and control to the Tier 1 IT Help Desk, along with AI-driven device fingerprinting and automation. No command line necessary.
Right-sized solution - Deliver affordable hardware and simple, budget-friendly licensing with all needed features.

Minim and Cisco Meraki comparison
Now that we know the must-haves of a BYON solution, we can take a look at how Minim and Meraki for small offices and remote working stack up: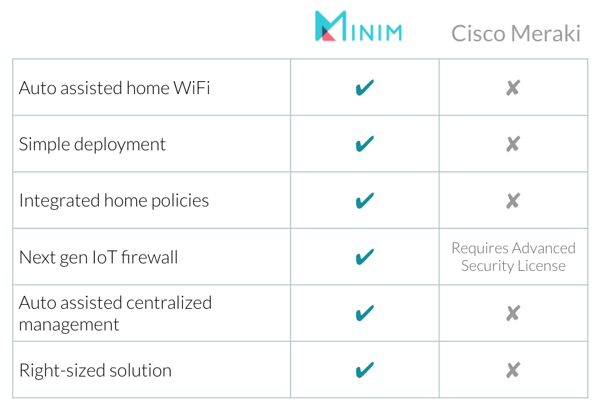 The Minim AI-driven WiFi platform was built to secure and optimize networks and connected devices, with usable management tools for both businesses and remote employees. As such, the 6 BYON criteria are core to the Minim solution, which includes:
Intuitive mobile app for employees to set up, personalize, and take control of their networks (alleviating the pressure on IT support staff)
Comprehensive web app for Tier 1 IT personnel to see the state of employee home networks, offer performance and security suggestions, and make remote configurations
Zero touch provisioning with the ability to adapt to existing VPN and network infrastructure
Options for employees to set user, device, and network content policies for their unique home
AI-driven consumer IoT fingerprinting: 26-point detection and protection
Budget-friendly APs and simple licensing schema for remote businesses to easily scale
Not to mention, the Minim solution is built using opens source technologies that not only allow for significantly lower price points, but also deliver APIs for easily layering with other solutions.
On the other hand, we can see how the Cisco Meraki cloud-managed IT platform doesn't exactly meet the needs of the small office and remote worker.
The solution was built with Tier 3 IT personnel in mind and so requires extensive networking knowledge to set up and maintain. Additionally, Meraki provides limited IoT device fingerprinting and security out of the gate, making businesses pay for advanced licenses that inflate the already high solution and AP costs.
And finally, Meraki does not address how home network environments differ for each remote worker. The solution enables Tier 3 IT personnel to set policies manually across networks, but does not enable employees any network personalization and control. If any network customizations or performance enhancements are needed, it falls back on the IT staff, which can become costly for the business to handle and inconvenient for the employee to communicate.
Minim as an alternative to Meraki: Learn more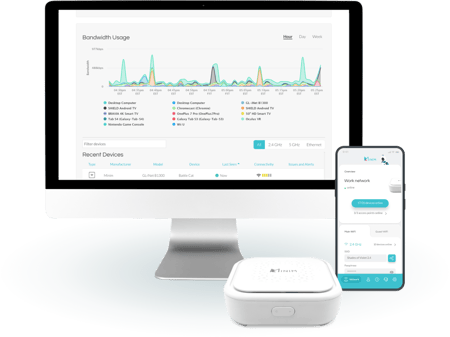 Interested in learning more about how Minim and Cisco Meraki for small offices and remote environments compare? Download this solution comparison.
---
Cisco Meraki is a registered trademark of Cisco Systems, Inc. and its products/services are not affiliated with Minim. The information in this post has been collected through research of information made available by Cisco Systems, Inc. and its partners. Minim believes the statements made in this post to be accurate as of the post publish date.